Campus guide – Aarhus: Drink beer at the Friday bar instead of downtown, and get out and explore
Where can you find cheap coffee, where are the best places to study, and what events are not to be missed? Three students share their top tips for new AU students in Aarhus.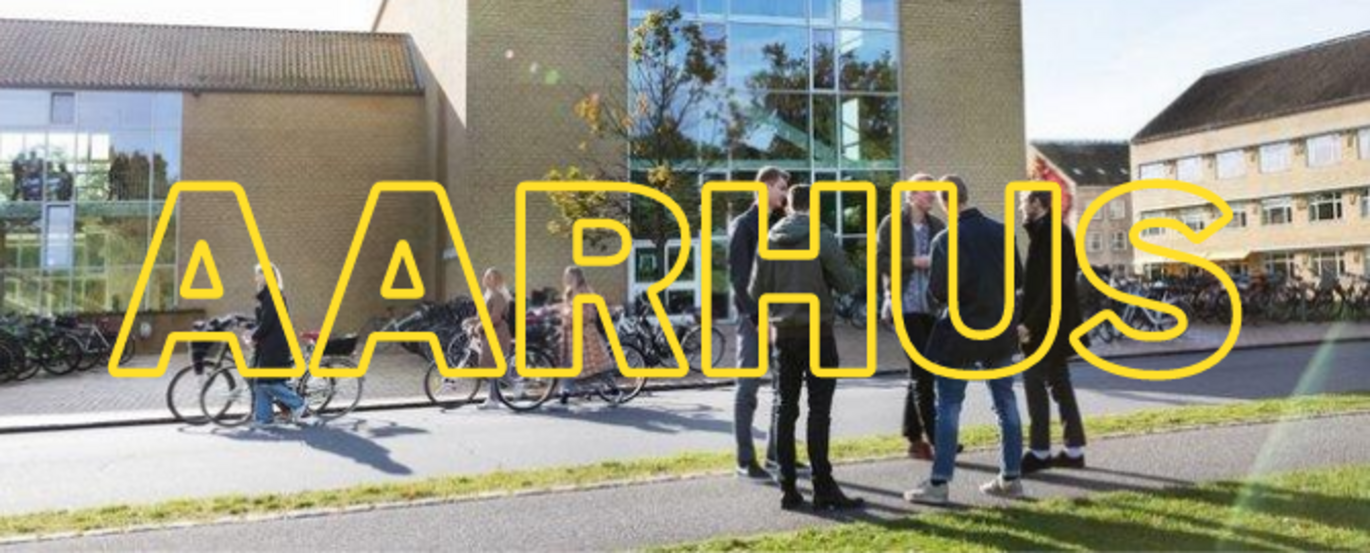 Martin Kousholt Mikkelsen is a third-semester comparative literature student, Lea Ingerslev Duus is a seventh-semester history student, and Gustav Leth-Larsen is on his fourth semester of the electrical energy technology programme.
Where to find cheap coffee or lunch:
Martin: "The math canteen serves the cheapest coffee, as far as I know. And I think you can even fill your own thermos up to the brim without paying a fortune. Lunch isn't much cheaper than at the other canteens, but there's a lot to choose from."
Gustav: "I most often find lunch at reasonable prices at the supermarket. The canteens are generally a bit more expensive when it comes to food – but the coffee's cheap, on the other hand."
Where to find cheap beer:
Lea: "Nobel Park is full of Friday bars that serve cheap beer at 5-10 kroner a pop, so luckily you don't have to go far from the reading rooms if you need a cold beer Friday afternoon.
Martin: "The Friday bars. No question about it. Or I go to pubs. I never (OK, once in awhile) drink beer that costs more than 25 kroner. I never (never) drink downtown by the river. It's expensive, and somebody I met at Vinstuen told me that they sell nachos for 80 kroner that cost five kroner to make – and the view of the river isn't worth that much."
FIND OUT MORE: MAP OF AU'S FRIDAY BARS
Where can I find out about events on campus?
Martin: Aarhus University's student magazine Delfinen has really informative articles on all kinds of topics. But the best way to keep up with that kind of stuff is by joining associations with members from a variety of degree programmes. That way you hear about what students on other programmes are up to. I'm a member of Kakofoni, which organizes literary events, but which is primarily aimed at students studying Scandinavian languages and literature."
Lea: "I follow Omnibus on Facebook to get news about AU, but I also follow the university's own Facebook page pretty closely. I also follow the Delfinen news feed and my own degree programme's page on Facebook, where I can keep up with all the local news in my subject."
Gustav: "If you're into events and news, you can join a lot of different volunteer organizations. There's pretty much an organization for every taste and personality."
The best place to read and write:
Lea: "I really like the Royal Danish Library's facilities. There's the library garden and the canteen, where there's a little background noise, but there's also the reading rooms if you need to concentrate and don't want to talk to anyone. In addition, my favorite place is the Nobel Park reading rooms, where I'm close to the other history students. The history program has it's own hangout/break and lunch room, Kancelliet, where I spend loads of time when I take a break from studying."
Martin: "Early in the day I study best in town. ARoS' reading room or a quiet cafe, or wherever I feel like sitting on that particular day. But in the afternoon, I study best at home. Some degree programmes have their own good, comfy reading rooms."
Gustav: "If you want to study alone or focus on an individual assignment, the libraries are really good places to work. I personally don't work efficiently at home, so I have to get my work process in gear by going somewhere else. There are lots of good places for group work on the different campuses."
READ MORE: Study start 2020 site
Don't miss these events:
Martin: "The literature festival LiteratureXchange – and for AU events, probably 'Denmark's biggest Friday bar'. You can hang out with and compete with other students (in tournaments in various sports, ed.), and there are concerts at the end."
Lea: "The obvious answer has to be the Regatta, and even though I'm getting ready to start my MA, I've actually never been there. So instead, I'd like to recommend 'Denmark's biggest Friday bar', which is kind of like going to a festival. For the past few years, you've needed a raincoat and rubber boots, but that just makes the whole festival vibe more authentic. I can also recommend going to your degree programme's revue."
Gustav: "My top pick is the Regatta, but Northside (an annual music festival, ed.) is something I think everyone should experience."
NB: Denmark's biggest Friday bar has been cancelled this year.
Your life as a student would not be complete without:
"My life as a student wouldn't be complete if I don't get out and experience the city. Studying is not a 9 to 5 job. For me, it's about feeling motivated to study, and I feel that when I'm around 'normal people'. It's life-affirming and inspiring and a huge contrast to all the grumpy mouths and empty eyes in the reading room."
Lea: "My life as a student wouldn't be complete without enormous quantities of coffee and my student friends."
Gustav: "My life as a student wouldn't be complete without community. A strong community works wonders. Not least because you'll probably find friends who share your interests and have personalities a lot like yours, but also because it's a huge benefit in terms of helping each other develop academically."
One final piece of good advice:
Lea: Get out there and explore! There's so much of AU that you have no idea what looks like. It's easy to get kind of caught in your own area and forget that AU is so much more. Take a walk around the unipark, up to Katrinebjerg and around the Nobel Park. Go on a Friday bar crawl and discover what the bars run by all kinds of other degree programmes are all about."
Martin: "It's important to create a sense of dynamism and variation in your everyday life. And you can do that by studying in different places, both around campus and around town. It gives you a new perspective on your everyday life. So my advice would be: Explore. Take a look around. Sit where you like. There are many, many beautiful buildings around Aarhus University and in town, and I always do: I just assume that they'll throw me out if they don't want me there."
Gustav: "It's ok to feel a kind of imposter syndrome while you're studying at the university. Almost everyone finds that the assignments and the demands they are met with are complicated, and sometimes impossible. What's most important is to use your teachers and your fellow students as resources. You have to remember that you're at the university to acquire new knowledge, and no one has already mastered the material they've come here to learn. The stupidest thing you can do is not ask for help."
Translated by Lenore Messick