Get a notification when your marks are ready
All you need to do is to download an app.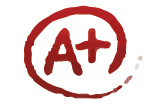 Computer science student at AU Kasper Føns was tired of continuously logging onto my.au.dk to check whether his marks had been posted during the exam period.
So he developed the STADS Grades app which notifies you when your marks are posted - and calculates both your weighted and unweighted average mark.
The app is free and can be downloaded via Google Play. An IOS version is also on the way.
Translated by Peter Lambourne