From the staff<br /> to the management:<br /><strong> AU's business school <br />is being wiped off the map</strong>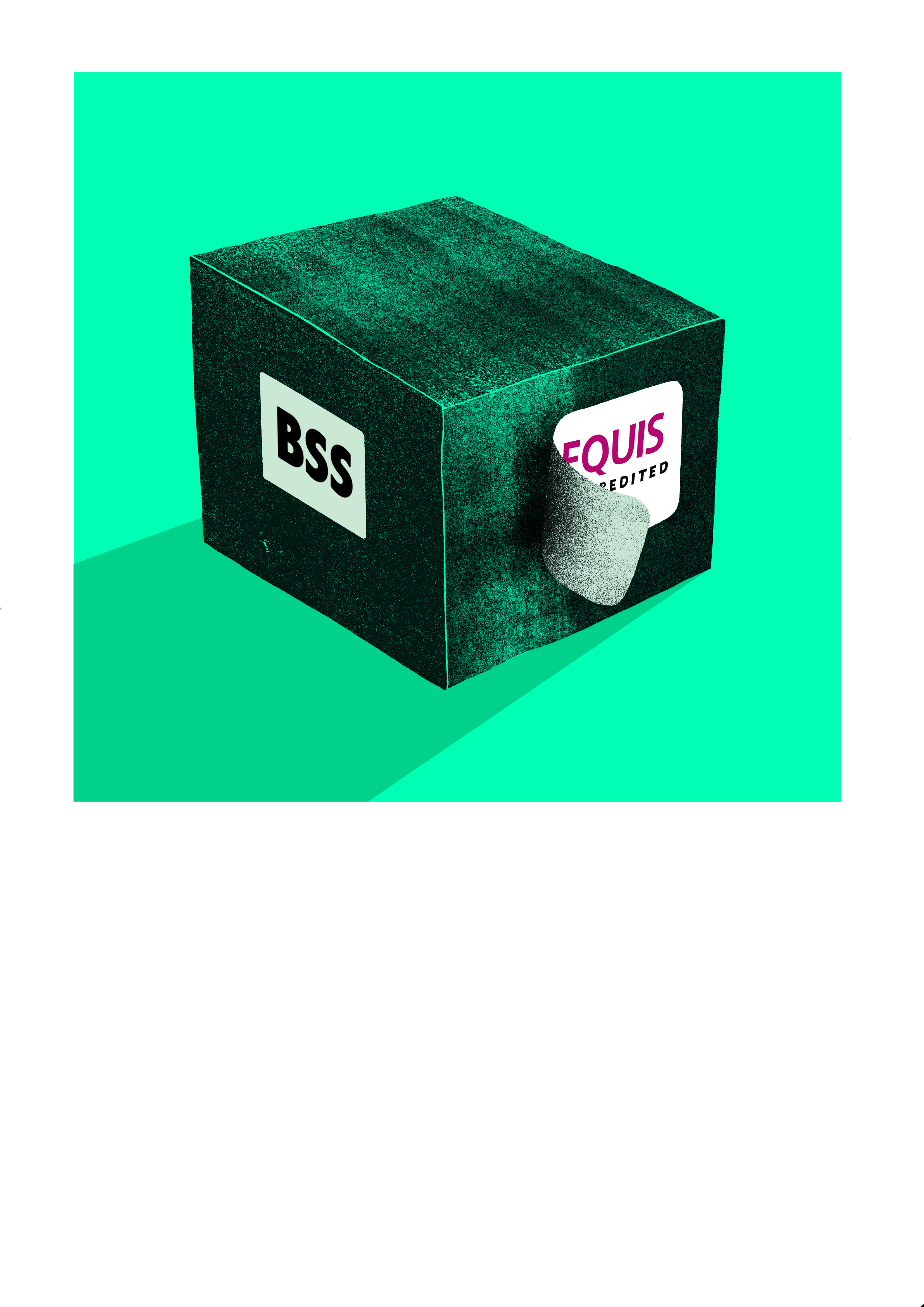 Wave goodbye to your vision of a broad business school. This is the message being sent to the management by more than 30 assistant professors, associate professors and professors at the Department of Economics and Business. They fear that people will soon think there is only one business school in Denmark. And that it's in Copenhagen.
A sense of scepticism regarding the senior management team's vision of creating a business school with a broader profile than traditional business schools like the previous Aarhus School of Business (ASB) has been spreading among a number of BSS staff since ASB merged with Aarhus University in 2011.
But when BSS was refused an important stamp of quality in October last year (the so-called "EQUIS" accreditation, which is one of the most attractive and acknowledged accreditations for business schools all over the world), a number of staff at the Department of Economics and Business started to be genuinely concerned. Particularly in the light of the fact that the former ASB had been granted the prestigious EQUIS accreditation several times since 2001.
Letter to the head of department
As a result, more than 30 assistant professors, associate professors and professors have now signed a letter to head of department Allan Würtz, expressing their concern.
They write:
"The refusal to grant EQUIS accreditation is a clear sign that the world around us no longer feels that there is a business school at Aarhus University."
And:
"We believe that the rejection is a sign that the merger between the Faculty of Social Sciences and ASB is going to wipe Aarhus University's business school off the map."
They make a clear appeal to the management:
"The consequences of the EQUIS rejection should be acknowledged, and we should work to re-create an academic and organisational unit that is capable of being accredited as a business school."
A vague and uncertain profile
Frank Thinggaard is a professor with special responsibilities at the Department of Economics and Business, and he is one of the people who took the initiative to write the letter.
"The EQUIS panel are experts in assessing business schools, so of course it's a problem when a professional body whose job is to identify high quality can't see that we're a business school. It's no good simply shrugging our shoulders," he says.
Thinggaard explains that a lot of employees are worried about what the lack of accreditation will mean in terms of attracting international researchers and students.
"One of my colleagues was asked a question by a Swedish colleague who wanted to know where the business school in Aarhus had gone. We used to have a business school that was a well-defined unit, but our profile now is vague and uncertain," he says.
Time to make adjustments
Philipp Schröder is a professor of economics and director of the Tuborg Research Centre, and he signed the letter as well. He used to be a member of the department management, and attended the initial meetings at which the new structure of AU was developed. He was favourably inclined towards the vision of creating a broad business school.
"We decided to adopt an entirely new concept for what a business school is, and I was very keen at first. But in hindsight I have to say that the time has come to make some adjustments. And I ask myself: 'Was it realistic for such a small country on the margins of Europe to create a new, visionary design for how to run a business school?'"
There's nothing wrong with the idea of an open structure, with business subjects interacting with subjects that are not traditionally found at a business school. And there are a number of tried and tested models for how to do this, says Schröder.
"But our efforts had an impact on our image in the eyes of the people who are supposed to buy what we're selling, which is our business-related degree programmes. And if our conclusion is that our customers can't see the products we're selling, we're going have to make some adjustments."
AU is invisible
Not long ago he discovered that AU is being overlooked as a provider of business degree programmes.
"AU is virtually invisible as a provider of degree programmes that are relevant for the business community. On 8 October the Danish business paper 'Børsen' published a special supplement on MBA degree programmes. But do you think AU was mentioned? No! If 'Børsen' doesn't know that Aarhus University has a business school, then who does?"
Potential new students also seem to find it hard to spot AU as a provider of business degree programmes, according to Schröder.
"I'm an advisory board member for the cand.oecon. degree at the University of Southern Denmark, and we analysed a questionnaire involving upper-secondary pupils on the island of Funen. They were asked questions about their choices of degree programmes. They had no idea that Aarhus University had any business degree programmes. They'd only heard of CBS (Copenhagen Business School, ed.) It's just awful: students in our own country don't know that Aarhus University has a business school – and a very good one too."
Philipp Schröder does not believe that the necessary adjustments should mean returning to the old ASB.
"We don't need major constitutional reforms because all the building blocks needed to create a good business school are already in place. What we need is rapid action. There are already two or three archetypes of how to integrate a business school into a university. All we need to do is transfer one of those models to AU; and if we want to be ambitious we could choose the same model as Oxford or Harvard. A well-trodden path is probably not the worst path to tread."
Grumpy old men?
Most of the people who signed the letter have their roots in the former ASB, which might lead some people to conclude that they're just a bunch of reactionaries dreaming of a return to the good old days. Schröder's views on this point are as follows:
"You could probably fill several lecture theatres with people wanting to turn the clock back to before the merger with AU, but I wouldn't be among them. Life wasn't all beer and skittles at the old ASB. Turning the clock back just won't work. But we do need to acknowledge that mistakes have been made. It's no good driving straight on if your satnav tells you to turn around. But this doesn't mean returning to the starting grid."
Thinggaard also denies that the letter is a typical reaction from a group of grumpy old men.
"It's true that there are plenty of grumpy old men around. But the letter was born out of serious concern for the future. We want the best future for AU, and we're not trying to be stroppy or reactionary. It was important for us to underline that not everyone at the department agrees that the broad model is the right way to go. We don't support this approach."
He adds:
"We aren't against the idea of a broad business school as long as business (companies and the business community) remains at the heart of it. We actually believe that the old ASB was a broad business school. But we don't want the mergers to be so broad that the business element is watered down. And we believe that the rejection by EQUIS shows that this is exactly what has happened. We want to unite the business side of our activities in a well-defined unit which the rest of the world will be able to find, and with which the staff can identify."
Sharing the concerns
As mentioned above, the letter was addressed to head of department Allan Würtz; and he is pleased that the staff trusted him to convey their concerns to the dean's office and the senior management team.
"I knew that the staff regarded the EQUIS rejection as very serious, and I agree with them. It's an important factor in attracting international students in particular."
Any decision regarding reorganisation of the main academic area must be made at senior management level, so he has sent the letter to the dean, Svend Hylleberg. In his own words, he maintains a pragmatic position in relation to the discussion of whether and how the organisation of BSS should be changed.
"I've decided to take our framework as a given, and I'll try to influence events and express my views in situations in which it make sense to do so," he says.
When asked about his reaction to the staff's idea that a perfectly good business school is being ruined, he says:
"BSS has only been in existence for less than three years, and it's true that BSS isn't very well known outside AU. So we'll have to do something about this and create our own brand."
Dean frustrated about rejection
Like the staff at the Department of Economics and Business, Svend Hylleberg, the dean of BSS, is frustrated by the EQUIS rejection.
"I must say that when we were rejected my first reaction was that they (the EMFD's awarding body, which issues EQUIS accreditations, ed.) could go to hell."
Once he calmed down, the dean decided to ask the EQUIS panel to re-assess BSS.
"We don't agree with the report that's been produced and it contained lots of mistakes. But on the other hand, this was the first time we'd faced an accreditation process and we probably weren't as well prepared as we could have been."
No major changes
The peer review team which is to re-assess BSS will be arriving in April, so at the moment it's all hands to the pumps in an attempt to produce some new presentation material. But the rejection hasn't led to any major changes, reports Hylleberg. He is encouraged by the fact that the members of the new accreditation panel come from broad business schools.
"There aren't any major changes as such, but we have changed the way we describe the institution. They didn't understand this point on their first visit, which means that we hadn't explained it well enough. So we're going to explain the way we're organised more clearly. We need to produce better arguments to prove why a broad business school is necessary."
So why is it necessary?
"The world has changed in the past 20 years. It's not enough to focus on marketing and management any more. You also need to connect business degree programmes with psychology, law and social sciences. That's what the business community needs."
But the rejection and the concerns of staff must surely give you food for thought?
Of course they do, says the dean. But he rejects the idea of re-designing the organisational structure of BSS.
"There's no going back. For one thing the board would never accept it, and for another it goes against the grain of merging our faculties with a view to meeting the demands of the future. It wouldn't be sensible to put BSS into reverse gear as the result of a single reaction from a single accreditation body which doesn't agree with our structure," says the dean.
He adds that another accreditation institution called ACCSB raised no objections to BSS's organisational structure when it granted BSS accreditation last year.
"And I don't think we would have been given ACCSB accreditation without the merger between the former ASB and SAM. There wouldn't have been enough research in support of the teaching."
Plenty of challenges ahead
Having said that, Hylleberg accepts that making the new BSS structure work smoothly in future is still a challenge.
"There are still a number of unsolved problems: admissions of international students and our corporate relations, for instance. But you have to remember that a merger as big as the one we've been through is never easy. It's a process requiring that both partners (the former Faculty of Social Sciences and the Aarhus School of Business, ed.) should agree that it's an advantage to stick together."
He also agrees with the staff that BSS has not yet been established as a brand.
"But I'm pretty confident that things will improve soon," he says, adding that:
"Of course I can't be one hundred per cent certain that AU's visions of a broad business school are right. But I believe that they are, and the rest of the senior management team and board think so too."
What if…
Until the EQUIS panel reach a new decision about whether BSS can be accredited, BSS can use the EQUIS logo to market its degree programmes.
But the EQUIS panel might give you the thumbs down again. Where would that leave BSS?
"Not getting EQUIS would be a serious situation, but not an earth-shattering blow. I'm confident, and I believe that we will be triple-crown accredited in a year's time."
Translated by Nicholas Wrigley