"Really impressive for a university cafeteria"
Omnibus sent two vegetarian foodies to try the Social Sciences Cafeteria's culinary buffet. The two reviewers found the information about the ingredients particularly popular.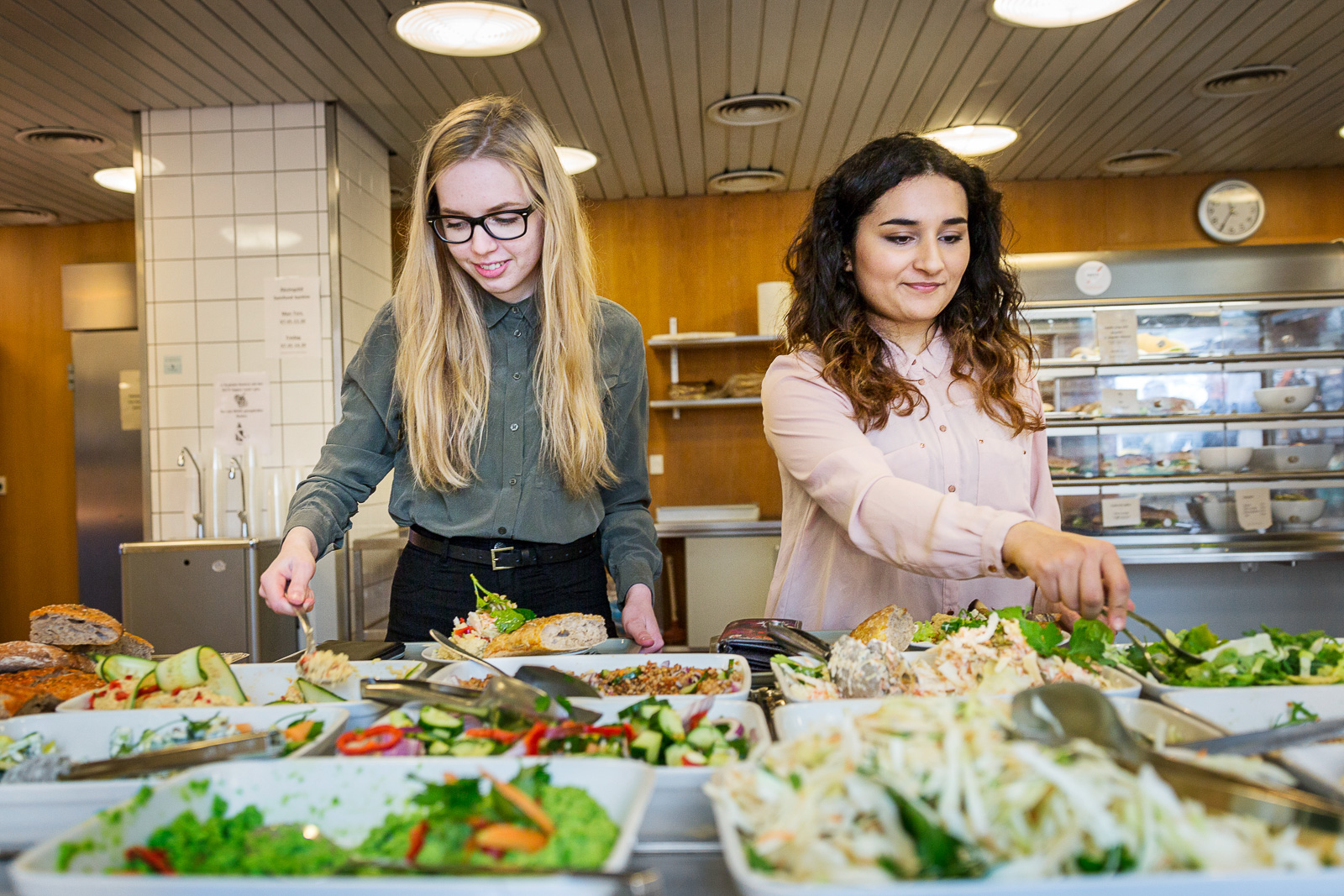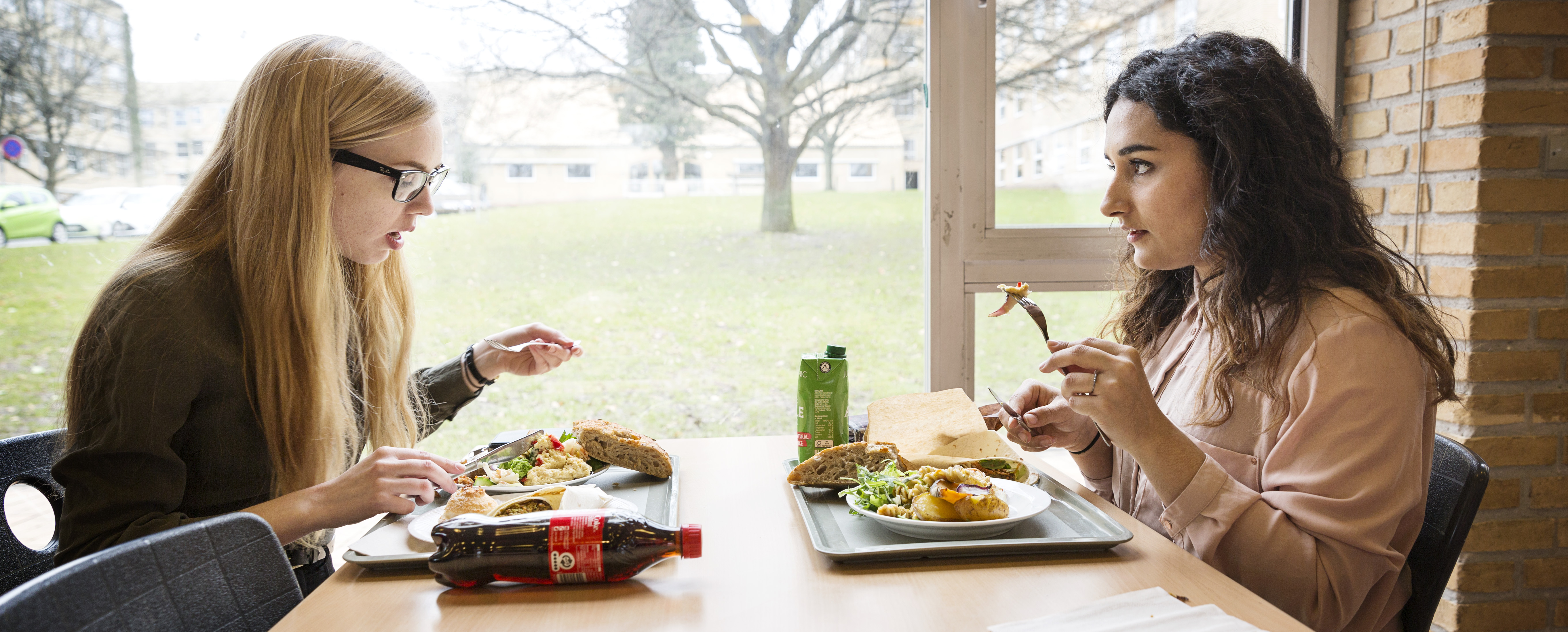 Reviewed by: Elham Amiri and Helene Hestbech Jørgensen, both fourth semester students of physics and astronomy. As told to: Sara Rosenkilde Kristiansen.
Food: The first thing we notice when we step into the small cafeteria is the information about the food. There are signs everywhere clearly stating whether the food is vegetarian or free from gluten or lactose. They make it easy for a vegetarian to navigate in the cafeteria. In addition, the friendly staff are happy to tell us what the different dishes contain. We start with the impressive and colourful salad bar, before selecting the focaccia that goes with the salads, baked root vegetables from the hot dishes and wraps with falafel and chipotle chutney. For dessert we buy two cakes.
We begin by assessing the main dish and it tastes incredibly good. Both of us find the salads really inspiring. The cafeteria has a lot to choose from, including salads with lentils, pasta and more. The ingredients are fresh and the salads have different seasoning and therefore vary considerably in taste. A plus in our book. Even though we would like to see bowls in the salad bar with e.g. tomatoes and carrots etc. Neither are there any toppings. There is also a tasty humus, though Helene is not so keen on its slightly grainy consistency. On the other hand, it doesn't have too much of a garlic taste, which is certainly good for your breath the rest of the day. The focaccia also needs tasting. It is without a doubt home-baked, but also rather pasty, so we're not sure whether this is on purpose or whether it hasn't been completely baked. Still, the cafeteria should get some credit for how it tastes and the delicious seasoning with salt, tomato and rosemary.
We would undoubtedly describe ourselves as experienced falafel experts and are therefore very excited about our very inviting wraps. Unfortunately, they don't live up to expectations. They taste both sweet and bitter at the same time, quite strange in fact. We don't know whether it's the combination of falafel and chipotle chutney that does it, but we have to admit that it's not really us. On the other hand, the baked root vegetables certainly are us – really delicate and well-seasoned with a perfect consistency. We have to hold our hands up and admit that we couldn't make them like this.
Even though we enjoy a good, solid and satisfying meal, we still have to taste the dessert. The cakes provide a delightful finish. Both Elham's muffin and Helene's coconut macaroon are deliciously spongy and tasty. Elham is very enthusiastic about the sunflower seeds on top of her muffin. Helene doesn't as such need any chocolate on her coconut macaroon, but on the other hand, it wouldn't exactly hurt.
Price: We paid a total of DKK 143 for everything (two small salads, two pieces of focaccia, wraps, a muffin, a coconut macaroon, a coke and an organic apple juice). The cafeteria's fixed prices are a plus and you can clearly see what everything costs. Though DKK 21 for a small salad is a bit steep. The prices are actually fair enough all-in-all, but we are sitting in a cafeteria and not a café.
Atmosphere: We ate lunch early at 11:30 and the cafeteria is a bit empty at this time of the day. Apart from this the place is cosy enough, and the large windows that provide a beautiful view of the University Park are a hit. The view is really beautiful and the windows allow plenty of light in.
Conclusion: The Social Sciences Cafeteria gets a massive plus in our book for being so vegetarian-friendly, with many different and delicious vegetarian alternatives. It even turns out that the dish of the day is vegetarian every Monday, a really good initiative that we will definitely try for ourselves one day. Even though their wraps didn't quite hit the heights for us, we will definitely return here. We are very full up and happy – and the quality of the food is fine. Really impressive for a university cafeteria.


Translated by Peter Lambourne.