The Spirit of the Yellow Brick
Simple, yet impressive – Aarhus University holds not only the status as one of the top universities in Europe but is also famous for its unique architecture and design. But what is so special about the seemingly ordinary yellow brick buildings and the many oak trees in the University Park?
"I had seen the campus before starting my studies here and the atmosphere I experienced was partly the reason why I applied. Everything is modern and functional, and I believe it is making my studies easier," says Josefine Duvander, student at Aarhus University.
She is not the only one who finds the architecture of Aarhus University appealing. Exchange student from Australia Samantha Day shares a similar outlook, emphasizing the sense of community and inclusion of nature around the campus.
Putting emphasis on function, the campus offers various indoor and outdoor places to study, meet with friends and relax. Photo: Melissa Bach Yildirim
All these aspects are considered when creating new educational buildings and nowadays a lot of traditional concepts are being challenged.
"Students expect very floating and flexible areas without limits. The days of old fashioned classrooms are gone, students are learning everywhere that they are," explains partner and architect from C.F. Møller Architects, Tom Hagedorn Danielsen.
C.F. Møller Architects have planned, designed and built numerous educational institutions, but Aarhus University might be among the most significant ones. It has been selected as one of the most beautiful campuses around the world in various articles and has given Aarhus a youthful and vibrant vibe ever since it was established.
Spread of Denmark's intellectual power
For 449 years, the University of Copenhagen was the only university in Denmark, holding all the academic resources of the country in one place. After long discussions about the location of Denmark's second university and a three-year trial period, a design competition for building the new university in Aarhus was held in 1931.
It was won by three architects: Kaj Fisker, C.F. Møller and Poul Stegmann. Their proposal was chosen from among twenty others because it incorporated and wisely used the relief in the territory.
"They made it more dramatic and magnificent by the way the buildings are located, making 90° angles in the curves of the landscape," explains Tom Hagedorn Danielsen.
A few years later, Poul Stegmann dropped out of the project to take up a position as rector of Aalborg Technical School, while the collaboration between Kaj Fisker and C.F. Møller ended in 1943 following a disagreement about who should be given credit for designing the university.
Nowadays, the architecture and building of Aarhus University is mostly attributed to C.F. Møller, who finished the project and whose architectural practice under his name is still responsible for maintenance, enhancement and improvement of the campus.
Christian Frederik Møller (1898–1988) is a Danish architect and his most famous works in Aarhus include Aarhus University and Salling Department Store. The architectural practice named after him is one of the oldest and largest in Scandinavia. Architect C.F. Møller (right) looking at the very first building of Aarhus University. The photo is from 1933 from Aarhus Universitetshistorie.
Not another yellow brick in the wall
"Yellow bricks, oak trees and the integration of landscape are the main characteristics of Aarhus University," explains Tom Hagedorn Danielsen.
At that time, it was unusual to use the simple and cheap yellow bricks used for building important objects. The reasoning behind this was rather rational – the project was highly dependent on private donations and United Brick Works donated one million yellow bricks to the university.
Yellow bricks are the signature of Aarhus University and one of the first associations when asked to describe the campus. Photo: Lars Kruse
"It's a little funny – everybody thinks that using yellow bricks was the architect's idea or somehow specially agreed upon, but actually it was decided by the donors and the architects used what they received," explains Tom Hagedorn Danielsen.
With the building of Aarhus University, C.F. Møller wanted to show some new functional ideas, for example, that buildings should be flexible and contemporary in the way people can interact with them. Tom Hagedorn Danielsen highlights the use of fair faced bricks indoors and suggests that it makes the border between interior and exterior much more floating. C.F. Møller also planned relatively large window areas for that time which allowed a lot of daylight in.
A place of balance
Integration between university campus and the city is another important aspect creating an open and welcoming atmosphere. The University Park is one of the favourite areas for students, especially when the weather is sunny and warm.
"It's cosy and perfect for reading a book on a bench while drinking coffee," says exchange student Lina Carina Sailer from Austria, who first felt a bit lost around the big campus with similar looking buildings but now calls it her second home in Denmark.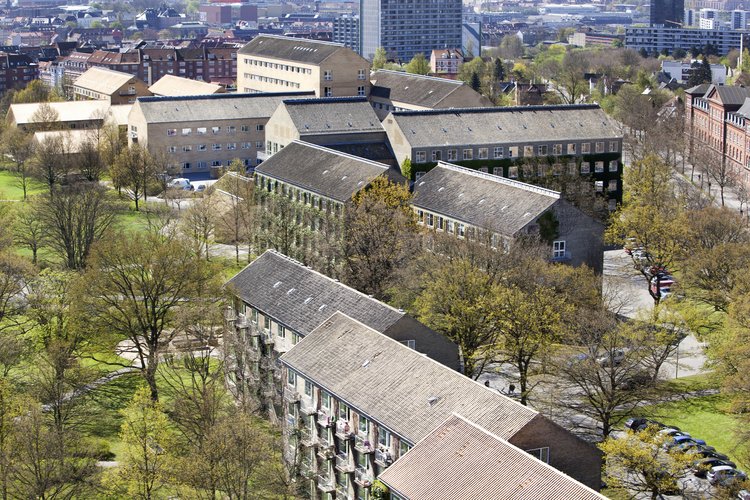 A specific feature of Aarhus University campus is that not all the buildings are interconnected. This is done on purpose to give students and staff the chance to get outside and catch a breath of fresh air. A healthy invitation by the architect! Photo: Anders Trærup
"Recreational outdoor areas should always be kept in balance with the actual square metres of the buildings, otherwise you are spoiling the harmony," says Tom Hagedorn Danielsen.
A fluffy idea
Even though C.F. Møller realized his functionalist plans and is widely praised for his architecture, one of his creative ideas did not work out.
Sheep in the University Park in 1934. Photo: Aarhus Universitetshistorie
In 1934, he introduced sheep to the park to avoid having to cut the grass. He had seen this in the UK, where the fluffy animals were used at several manor houses. However, at the new Aarhus University campus they not only damaged the oak trees and made loud noises, they also attacked their own reflections and smashed the windows. After a year, the idea – and the sheep – were discarded.
C.F. Møller's legacy
In 1988, C.F. Møller prepared guidelines for future building-related extensions and changes. It was subsequently named "Møller's university legacy" and was written in the same year he died.
He remained in charge of construction right to the end and even provided instructions regarding the maintenance of the University Park. Tom Hagedorn Danielsen emphasizes that C.F. Møller's concept is kept in mind with every upgrade and innovation.
Campus 2.0
In 2020, Aarhus University will take over the Aarhus University Hospital buildings opposite the campus. The clinical functions will be relocated to Skejby and a new hospital also designed by C.F. Møller Architects. The old premises will be reconstructed and adapted to educational needs.
C.F Møller Architects is not responsible for designing the new campus area. However, Tom Hagedorn Danielsen says that it is not that hard to adapt hospital buildings to university requirements: "The hospital wards can be transformed into group rooms or offices and there are other big areas which can become auditoriums or cafes."
Vision of the new Campus 2.0. Vision by: AART architects/FEAS
---
Explore the details!
1. Have you noticed the large ceiling painting in the Lake Side Lecture Theatres? It was created by contemporary Danish artist Per Kirkeby.
Photo: Lars Kruse
2. One of a kind – the lamps in The Main Hall are unique designs by Poul Henningsen, who is world-famous for his lamps which are simply referred to as PH lamps.
The Main Hall. Photo: Lars Kruse
3. The book tower, which is a part of Det Kgl. Bibliotek, Aarhus (Royal Danish Library, ed.), is 43 metres high.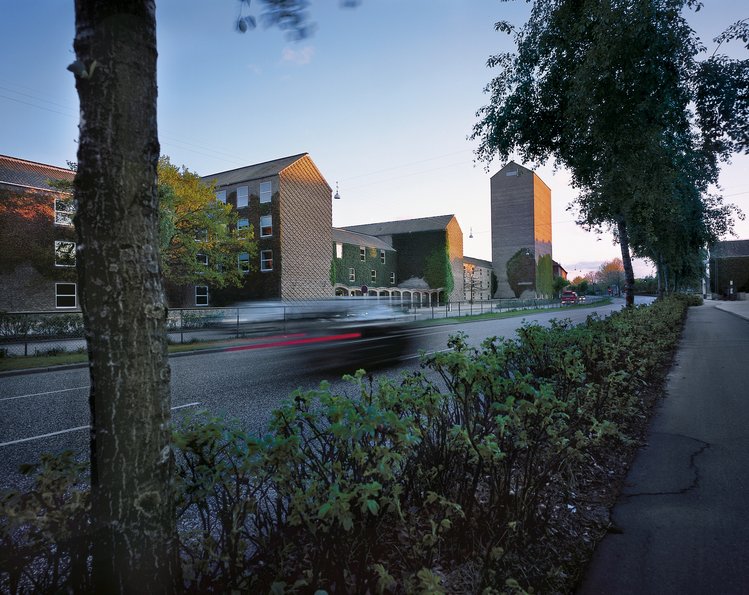 Photo: Poul Ib Henriksen
4. You can even find an amphitheatre in the University Park!
Photo: Lars Kruse
5. Some students refer to the tunnel to the main building as the "kissing tunnel".
Photo: Anders Trærup
6. You can enjoy coffee and have a look at a wall mosaic by the Danish artist Erik A. Frandsen in Dale's Café.
Photo: Lars Kruse
Thanks to tour guide at Aarhus University Sarah Kindt Nielsen for providing information about the campus and sharing interesting stories.