AU entrepreneur: "I didn't get paid the first two years, but now I get 1000 kroner"
Albert Kirk Iversen started his own business after graduation – the mobile masseur service Raskrask that hit 450,000 kroner in sales in January. And his own salary? 1000 kroner a month.
It all started back in 2015 with a bad foot – Albert Kirk Iversen's foot. It had started acting up after a soccer game, and he needed to get it checked out by a physiotherapist.
"But first I had to call the doctor – just to get an appointment a week later. So on that day, I limped down there on my gimpy foot to have the privilege of sitting in a waiting room – just to get a referral to a physiotherapist. Where I could experience the whole process from the beginning again – call, wait, go down there and so on," Iversen remembers.
To put it mildly, he found all this inconvenient. So he set out to make it easier to get help:
The original idea was Uber for physiotherapist, where you could press a button and then a physiotherapist would come to your house."
Today, a little over three years later, the concept is still very similar to the original idea, but the service is no longer physical therapy – it's massage. Clients can book a massage in their own living room on the Raskrask website.
Iversen has two full-time and two part-time employees, who keep the company running along with some interns, as well as about 80 freelance masseurs. And as lucrative as the concept might sound, the path to profitability has been long and steep: Iversen's own salary only recently hit 1000 kroner a month.
Good ideas are overrated
In other words, the entrepreneur has come a long way since 2015 when he was working on his Bachelor's degree in business administration at AU.
It didn't take long for the Uber for physiotherapists idea to hatch: At a Startup Weekend in Aarhus, Iversen's idea was selected as a case, and a large group of students contributed to the development of the concept, which also won Startup Weekend.
But he never really feared that someone else would poach his idea:
"The value of an idea is overrated, because there are lots of good ideas. Execution is what's hard, and so it makes a lot of sense to share your idea and get help. Sitting on your ideas like they're secrets is a total misunderstanding. Because after all, other people don't have the same relationship to it and understanding of it that you do," says Iversen.
Albert Kirk Iversen's work desk. Photo: Lene Ravn
Top grade in entrepreneurship
When he and his partner were planning their Bachelor's project, they naturally persuaded their supervisor to let them work on establishing the company.
"Our supervisor hadn't ever heard of writing your own company, and he was pretty sceptical. He was afraid that we'd just focus on the company and forget about the report."
But he ended up giving them the go ahead:
"Our supervisor seemed really impressed at the exam, and it all sort of felt like a casual chat that ended with an A."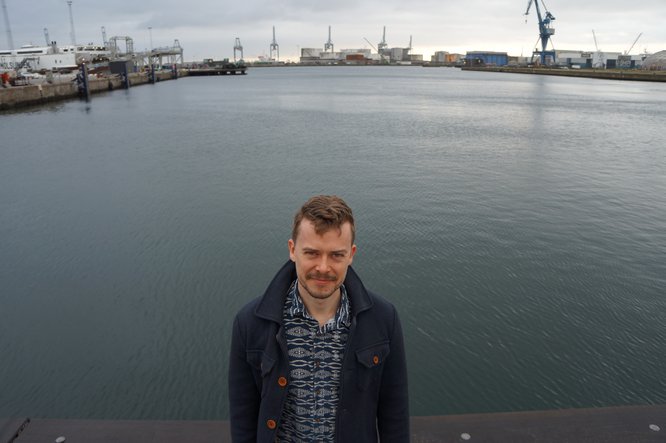 According to Iversen, the entire concept is also a testament to how difficult creating a business can be. Raskrask's approximately 80 masseurs could build their own companies, but have chosen an affiliation with Raskrask instead. Photo: Lene Ravn
What customers want
Immediately afterwards, Iversen decided that he didn't want to do a Master's degree. He wanted to be a full-time entrepreneur, while his two co-founders decided to continue their studies.
Their decision to stay on also got their company a ticket to the Aarhus Student Incubator, where the three of them could get an office, advice and guidance.
That made a big difference:
"We probably wouldn't have dropped it, but it would definitely have looked different without the Aarhus Student Incubator."
At the incubator, their concept took a new turn. It turned out that their customers didn't want physiotherapy – they wanted massage.
"Again and again, the physiotherapists who were called out to our customers were asked just to give a massage, and not all of them were willing to do that. So we started losing physiotherapists."
Raskrask changed course and started bringing masseurs on board instead..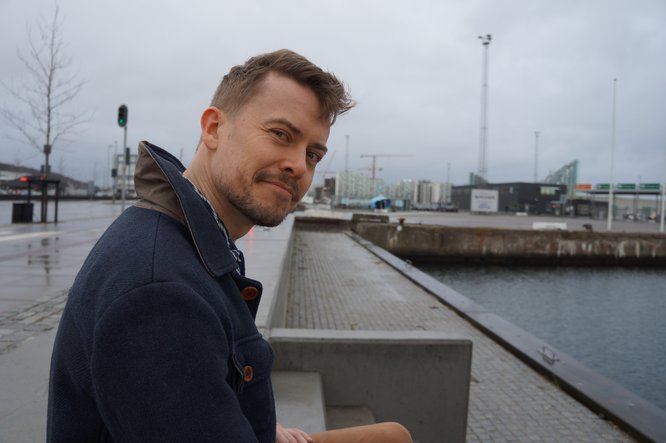 Photo: Lene Ravn
Uncertainty scared the others off
In 2017, both of Iversens' co-founders graduated, and went on to find other paths through life – safer paths.
That left Iversen alone with Raskrask.
"I suppose I'm more comfortable with uncertainty than most people," he concludes.
Not that he doesn't sometimes doubt whether he has chosen the right path.
"It's all so unpredictable. Will it ever be a success? You don't know. Now I've spent three years of my life on this, and if I start thinking about that relative to what I could have accomplished if I had taken a more traditional career path, certainly, that sometimes gets to me during the downturns."
The entrepreneurial life hasn't turned out to be quite as idyllic as he had imagined in the early days:
"But now I've gotten to a place where I'm going all in and am totally dedicated. I know there'll be ups and downs, but now I just ride with it, no matter what happens. And with that decision, I've lost a lot of the doubts that used to plague me."
Raskrask's business model is based on receiving a percentage of between 10 and 30 percent of customers' payments to their masseurs. Photo: Lene Ravn
The CEO's check
One thing that might give rise to doubts in less committed souls is the size of the CEO's paycheck at Raskrask:
"I didn't get paid the first two years, but now I get 1000 kroner." And that's mostly because my accountant recommended it – something about a deduction for lunches," explains 32-year-old Iversen, who is living on his savings.
Fortunately, it looks like he'll be able to afford more than lunch soon, because Raskrask is now pretty much breaking even. The company has reached 10,000 bookings, saw 450,000 in sales in January, and is growing at a rate of about 15 percent a month.
"I'll take it as far as I can. But if at some point there's someone who can do it better than me, I'll pass on the torch. In any case, it doesn't make sense for me to try and predict what my future will look like in ten years – as an entrepreneur, I'm forced to think a lot more short-term."
Translation: Lenore Messick.