"It's a bit like a Danish folk high school – but rather elitist and old-fashioned"
Dane Anton Steinø is studying at Oxford University, with one-on-one lessons with his professors three times a week and everyday student life that is reminiscent of Harry Potter's life at Hogwarts – except for the content of the courses.
While Anton Steinø's friends were applying to universities in Copenhagen, Aarhus and Roskilde last summer, he took the decision to take his degree within the thick walls of Oxford University instead. But even though life as a student at Oxford provides an international community, a welcome to British academia and a student life that is reminiscent of Harry Potter's, none of them were the reason why Anton Steinø looked abroad.
"The biggest difference between Danish universities and Oxford is definitely the level of contact with the lecturers. That's also the primary reason why I applied," he says, explaining that he would have preferred to study in Denmark if he could get the same instruction here.
One-on-one with the professors – almost
Three times a week he and two other students meet with one of their professors and have a whole hour alone with the professor to discuss the two or three essays that they hand-in every week. He also has an additional six or seven lectures each week.
"It's so great to be able to immerse yourself in your studies and discuss your knowledge with some of the world's leading professors, almost one-on-one," says Anton Steinø, who thinks that Denmark can learn something from this form of instruction.
"It may well be that this kind of teaching has gone on for a thousand years, but it's nevertheless still really modern. I'm still shocked at how much student contact with lecturers has been cutback in the Danish educational system."
Here he is referring in particular to sociology at the University of Copenhagen, where all class lessons in General Sociological Theory have been cut.
"You're not going to learn much like that."
Friday bar – in gown and butterfly
Even though the students see their professors a lot, their relationship with them is not as relaxed as students are used to in Denmark.
"We're on first-name terms with them, but that doesn't mean that we tell jokes or that they hang out in our Friday bar."
The students' Friday bar is also a place where he can sometimes miss the relaxed Danish attitude.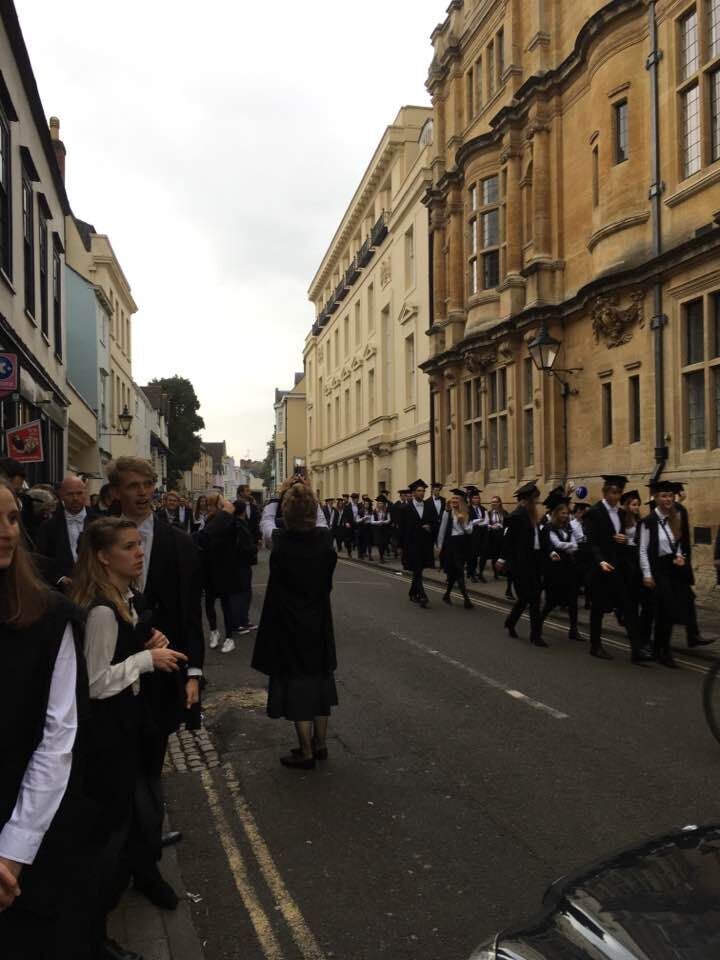 Anton Steinø has to wear his black gown every Wednesday and otherwise to exams. As first-year students, the gown is short and sleeveless, but once the exams have been passed in the summer, the sleeves can be added to gowns – but mind you, only if the student gets good marks! Master's degree students can wear long gowns. Photo: Private.
"It's exciting to wear black tie (dinner jacket, black bow tie and possibly a gown, ed.) and learn how things are done in an English upper-class environment, but it's also a little alienating. In Denmark, I go to parties in worn jeans, battered sneakers and a faded sweater. That's not always the case here, which alters the way you spend time together, because when you're standing there in a bow tie and gown, the atmosphere is different and you don't feel so at ease."
Welcome to Gryffindor
On the other hand, he feels at ease at the hall of residence, which he compares to the four houses in Harry Potter.
"We all have a hall of residence. This is where we sleep, study, hang out in the communal room and go to our lessons with the professors," he says.
This means friends are found more among the other residents at the hall rather than the students who are studying the same subject.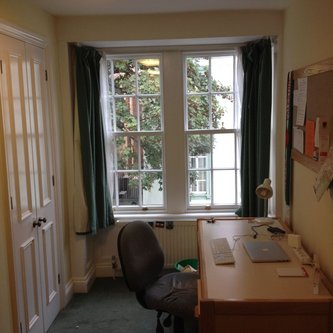 Anton Steinø's room at Harris Manchester College. Photo: Private.
Modern house elves
But it is not only the sense of community at the hall of residence that is reminiscent of daily life at Hogwarts. The level of service is also comparable to that provided by the house elves in Harry Potter.
Food is served for the students in the old dining room three times a day by waiters who clear away the dirty plates, so the students never have to set foot in the kitchen and do not have to help with the dishes. The rooms are cleaned daily, once a week thoroughly and otherwise just quickly, and this is of course done by the staff:
"I don't even know where to find a cloth to clean my desk. If I want clean sheets, I just put the dirty sheets outside the door," says Anton Steinø.
A slightly awkward laugh accompanied by two raised eyebrows clearly show that he finds the boarding-school type of luxury slightly absurd, even though it provides the opportunity of complete immersion in studying.
"I think you lose some adulthood by living like this. We become a bit infantile," he says with a wry smile.
Three semesters in a year
The teaching and life as a student are not the only things that make Oxford University different from universities in Denmark. The structure of the degree programme is also different. During the course of the year, Anton Steinø has three semesters, each lasting eight weeks. There are six week breaks at both Christmas and Easter and a summer holiday that lasts three whole months.
"The eight-week semesters are very intense, and I think they wear some students down a little. It has been suggested that there should be a week-long break in the middle of each semester, to give people time to catch up and relax a little every four weeks," explains Anton Steinø. He can also feel how hard the pressure of work is.
"After each semester, I feel like I need to sleep for two weeks in a row."
Last semester, Anton Steinø was a member of the hall of residence's rowing team, but he dropped out again, in part due to the time-consuming training 3-4 times a week. It is also possible to play for the hall's Quidditch team. Photo: Private.
Eight hours a day in the reading room
During the semester, he spends eight hours a day in the reading room, and at the weekends six hours. There is therefore no time for a student job, and it is not unusual for a trip to the bar on Friday evening to be replaced by a trip to the library.
"When you have two or three essays a week that you have to discuss with your professor and only two others… well. you can't just turn up unprepared," he laughs.
To Copenhagen with love
Even though the green, soft lawns, babbling fountains and benches on the cobbled terrace in the hall of residence's garden invite students to relax in the sun, there is no time to enjoy the beautiful campus during the holidays.
"We're thrown out the day after the final lecture at 9:00 in the morning," says Anton Steinø.
Between semesters the halls of residence are used almost like a hotel, where visiting researchers, prospective students and students at the summer school move in to the rooms. The students therefore move in and out of the rooms each semester.
Harris Manchester College viewed from the outside. Photo: Private.
"It's a real hassle. As an international student, I'm lucky enough to be able to store my possessions in the basement, but it's still a bit strange to have to pack everything in a suitcase every two months."
Instead, Anton Steinø spends the holidays in Copenhagen with his girlfriend who lives there.
"So, in one way, the short semesters are really nice," he says smiling.