Guide: 5 events at AU in April
This month, you can join trips to Ebeltoft and Skagen, get to know other students at a conversation cafe, and not least experience the legendary Regatta with its naked student race in the University Park. All of the events take place in English.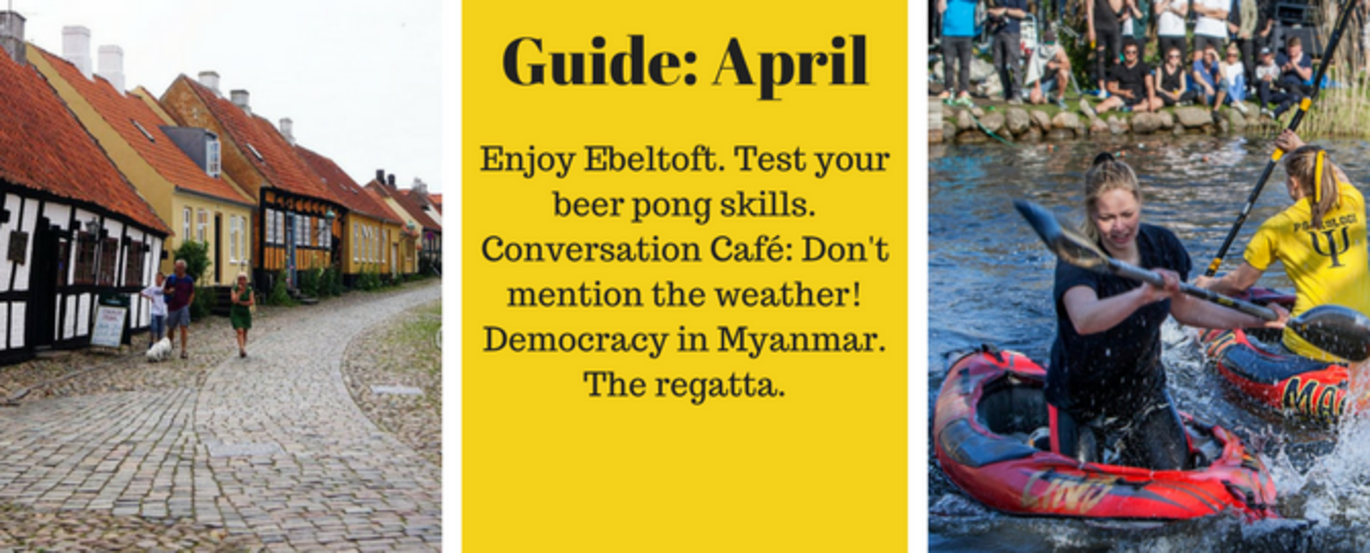 1 April: Trip to Ebeltoft and Kalø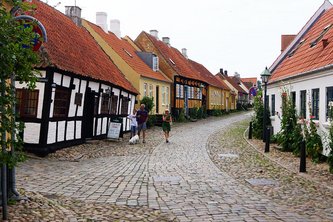 Photo: Sebastian Nils
Join the trip to Ebeltoft and "The Frigate Jylland" situated in beautiful Djursland, which is otherwise difficult to get to without a car. In Ebeltoft you can enjoy the special Danish old-town atmosphere with cobbled streets and small houses with thatched roofs. The Frigate Jylland is the world's longest wooden ship and stems from the Second War of Schleswig in 1864. It has now been turned into a museum. The day will be completed with a chance to see the castle ruins of Kalø, where only the stone walls from around 1313 are still standing, before heading back to Aarhus. On 22 April there is the opportunity to join a trip to Skagen, Denmark's northernmost town where the famous Skagen Painters were based.
---
4 April: Beer pong tournament
It's well-known that Danes like beer, and beer plays a key role when beer pong (also known as 'Beirut') is played at various parties and Friday bars. The game involves simply throwing table tennis balls into an opponent's beer mug, which must subsequently be drunk. The Student House Igroup is organising a beer pong tournament with places for sixteen teams to compete for honour, glory – and prizes. It will also be possible to enjoy a friendly out-of-competition game.
---
19 April: Conversation cafe without awkward talk about the weather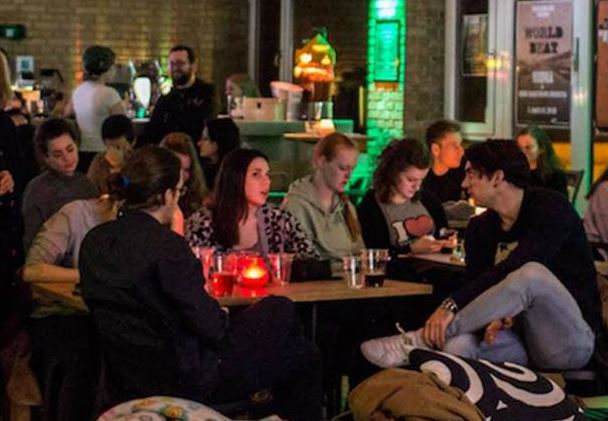 Photo: Studenterhus Aarhus
You won't have to bring your usual comments about the weather or other ice breakers with you to the discussion salon at the Student House. The conversations are instead kick-started by a facilitator, who introduces changing topics to talk about. The only prerequisite for participation is that you wish to talk to others and make new acquaintances.
---
26 April: How is democracy doing in Myanmar?
Anthropology at AU puts the spotlight on the gradual democratisation of Myanmar and sheds light on the conflict between Buddhists and Muslims in the country, local empowerment and creating peace, among other topics. Among the speakers are researchers from the UK, Germany and Myanmar, in addition to AU's own experts in the field, Mikael Gravers and Annika Pohl Harrisson.
---
28 April: The annual Regatta – in rubber dinghies
Photo: Lars Kruse
Regattas in a university context are probably mostly associated with the noble, British gentleman's rowing competition between the universities of Oxford and Cambridge on the river Thames. Things are a little different in Aarhus! Here the teams from the various social committees row back and forth across the university lake in rubber dinghies, interrupted by brief intermissions on land while beer is drunk before spinning around the bottle. All with live commentary provided by comedian Christian Fuhlendorf and radio host David Mandel. Tens of thousands of students watch the event sitting and lying on the soft grass – but only a few of them take part in legendary naked student race.
---