Men, machinery – and corpses
Imagine a researcher at AU needs a telescope, a Mars tank or to get a particle accelerator fine-tuned. What should he or she do? The answer is to visit AU's precision mechanics and machinists. They're not bothered about getting their hands dirty, whether it's with dust, oil or blood.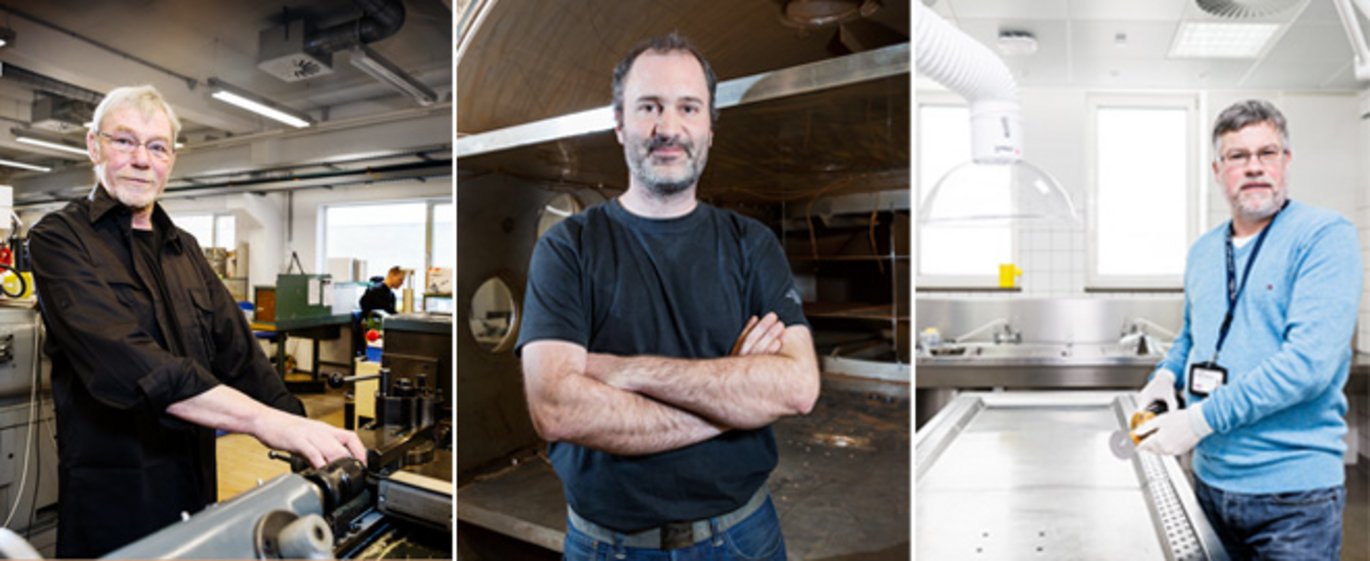 Fiftieth anniversary of the club for the Danish Metalworkers' Union at AU
The club for Danish metalworkers, which is also known as Club 59, celebrates its fiftieth anniversary with a reception on 30 March.
The club is for members of the Danish Metalworkers' Union, the Danish Union of Electricians and the United Federation of Danish Workers.
The club has around 100 members at AU, including one woman.
John Kapstadt is a machinist at the Department of Physics and Astronomy. Ordinarily he operates the machines in the workshop or is busy in the corridors beneath the department repairing some of the advanced and exclusive pieces of hardware that the department has at its disposal.
When asked why he still really likes his job even after 19 years at AU, his answer is that "no two days are the same".
John Kapstadt is chair of Club 59, vice-chair in the club for technical/administrative staff and chair of the Danish Metalworkers' Union branch club for public employees in Aarhus, Randers and Grenaa. He has been employed as a precision mechanic at AU for 19 years. Over the years, the work culture in the workshop has changed a lot, he says. When he started work 19 years ago, keeping to the agreed breaks was – to put it nicely – a plus point. Today, employees have the freedom to challenge themselves professionally. Photo: Maria Randima
A telescope? Coming right up
Another reason would be the somewhat unusual tasks that occasionally turn up. Such as when Associate Professor Frank Grundahl from the Department of Physics and Astronomy needed to get a telescope built on Tenerife in 2011.
"We were three precision mechanics who built the whole telescope apart from the lens. We built it in a machine shop in Randers, took it apart again, put it in a container and had it sailed to Tenerife where we put it back together again. It was March, we were working 2,400 meters above sea level in freezing temperatures, and we stood there in full Winter gear. But it was actually really exciting work, and we had a good collaboration with Frank. He wanted to get another telescope built in Africa, but unfortunately that project never materialised. I'd have been happy to do it again."
Red, dusty and very special
John Kapstadt leads the way around the basement which houses Aarhus University's AWTSII 2010 wind tunnel – or the Mars tank, as it's usually called. A Ferrari-red capsule measuring 8 x 2.5 meters, it is the only one of its kind and therefore often sought out by Mars researchers around the world.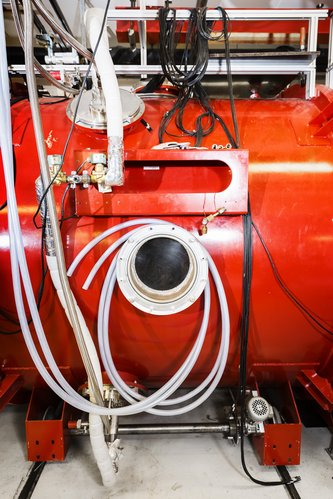 The Mars tank. Photo: Maria Randima
"We built this in the machine shop in Randers as well. It was a really big technical challenge to build that tank," explains Kapstadt, before saying hello to precision mechanic Jens Jacob Iversen and senior researcher Jonathan P. Merrison, who are fine-tuning the tank.
A team of Canadian researchers have just been visiting to test some wheel parts from a vehicle that will be part of the European Space Agency's ExoMars mission in 2020. The tank simulates the conditions on the surface of Mars. That is to say cold, dusty and windy. The tank can create temperatures as low as minus 120 degrees Celsius and a wind speed of up to 20 meters per second.
Precision mechanic Jens Jacob Iversen in front of the Mars tank. Photo: Maria Radima
"AU is the only place that can perform this type of test," explains Jens Jacob Iversen. He looks into the tank, which still shows traces of the red dust used in the test.
"It's soil from Salten woods. They've found out that it resembles the dust found on Mars in some ways," he says.
"Dust in the machinery is one thing that I have had to get used to as a precision mechanic. It's a big challenge technically," he says smiling and peering into the tank.
Finely-tuned collaboration
Iversen was a trainee at the department's workshop and has now been employed here for the past eleven years.
"I actually began studying physics and did that for two-and-a-half-years before I decided to become a precision mechanic instead. But this means that I have a theoretical understanding of what researchers do. They also ask us for advice and are good at involving us when there's something that's outside their own field of study. We can use the insight we get from that to fine tune our efforts," he says, explaining the interaction between researchers and mechanics.
Precision mechanic Jens Jacob Iversen (background) and senior researcher Jonathan P Merrison. Photo: Maria Randima
Senior Researcher Jonathan P. Merrison adds:
"I create problems, Jens Jacob solves them," he laughs.
"The collaboration with the researchers and the combination of science and technical skill is really one of the things that makes it fun to go to work," says Iversen.
"On top of that, it's fun to think that some of the instruments that I've helped to create will be sent to Mars."
Seen it all
Forensic technician, Karsten Mildahl Nielsen. Photo: Maria Randima
Elsewhere at AU, in fact halfway underground, we find one of AU's machinists. Karsten Mildahl Nielsen is also a trained technician, but for the past 21 years he has been a forensic technician at the Department of Forensic Medicine. As he says, it is a job that is poles apart from the lathe where he was originally trained.
Nielsen and his two technician colleagues are the ones who receive the corpses when the police request a forensic autopsy.
"We then register the corpse, scan the whole body and ready everything for the autopsy. We're the ones who remove the organs and prepare everything so that the medical examiner can do his or her examination. We take tissue, blood and urine samples. And when the autopsy is finished, we're the ones who sew the corpse back together again, wheel it back to the cold storage room and order collection if the body has been released by the police."
Stationed in the Balkans
Working as a forensic technician has also led him outside of Denmark. In 1999 and 2000, he spent three weeks working as a voluntary technician in Kosovo. He had been sent by the Danish state to assist the International Criminal Tribunal for the former Yugoslavia in The Hague in identifying victims of the war in the Balkans.
"I assisted the head of the department of Forensic Medicine in Copenhagen, and we visited locations where the locals knew that people were buried. Then our job was to find out the cause of death for each person. Had they been shot or did they die of natural causes?"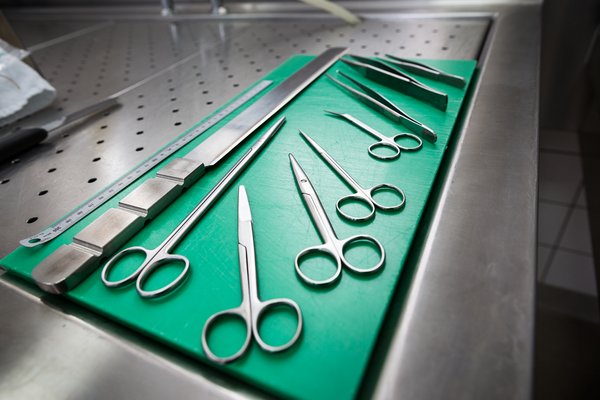 Some of the tools and knifes used for a forensic autopsy. Photo: Maria Randima
The second time he was sent there, he was given a detailed course in avoiding landmines, as the area they were working in had been heavily mined the year before.
"That time I thought: What am I doing?" remembers Nielsen, who has a wife and children.
Suffered from post-traumatic stress
Back then there was no debriefing after that type of posting or if you had worked on a particularly tough case. It was up to the person themselves to process experiences and impressions. For Nielsen the experiences he took with him from the Balkans resulted in him getting post-traumatic stress.
"I had to switch back to everyday life in Denmark again, where people complain about the bus being two minutes late. I'd just been somewhere where there weren't any buses at all, and where relatives were standing next to me and watching as we identified their family members."
"Fortunately, there has been a lot of progress in this area and today we have to undergo a debriefing when we have, to take an example, been involved in a case like the quintuple killing in Ulstrup near Randers," explains Nielsen, who was also sent to Thailand in 2004 to help with the identification of the thousands of victims who died during the tsunami catastrophe, including 45 Danes.
Thick-skinned after 21 years
Photo Maria Randima
But he is aware that 21 years with raw violence, death and crime as a regular part of his working day has made him thick-skinned.
"I don't get so easily affected emotionally anymore, because I set the bar higher today. I've seen it all. Plane crash. Train crash. People who've had their head blown off. Bodies that haven't been found for a long time."
But he admits that he can still be affected when he stands at the steel table with a saw and knife in his hands.
"What affects you is if it's a child."
"I just say that I work at Aarhus University"
Needless to say, his experiences from the job are not something to entertain people with at a dinner party. Mostly because of the duty of confidentiality that he has, but also because people often know about the cases from the media.
"The media's interpretation doesn't always agree with the reality that I've seen. So I usually just say that I work at Aarhus University."
But what is it about working in the clinical cellar where the smell of death cannot be washed away that still makes the job worthwhile after 21 years?
"The working environment. People listen to the employees. It's very positive," explains Nielsen, who also points to the unpredictability of the work.
"You don't know what to expect. I never dreamed that I would be sent to Kosovo or to Thailand after the tsunami. Working internationally, different languages, it's exciting being part of that. Also seeing how forensic pathologists in other countries work and working under extreme conditions, as we did in Thailand. It's challenging."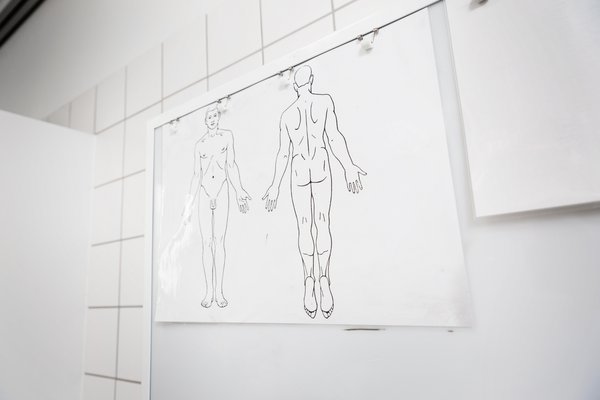 Photo: Maria Randima
Translated by Peter Lambourne