THEME: Uncovering the key to good marks and less study stress
The Centre for Teaching and Learning at AU is running a pilot project studying how study environment, stress, and the students' own planning affects their exam marks.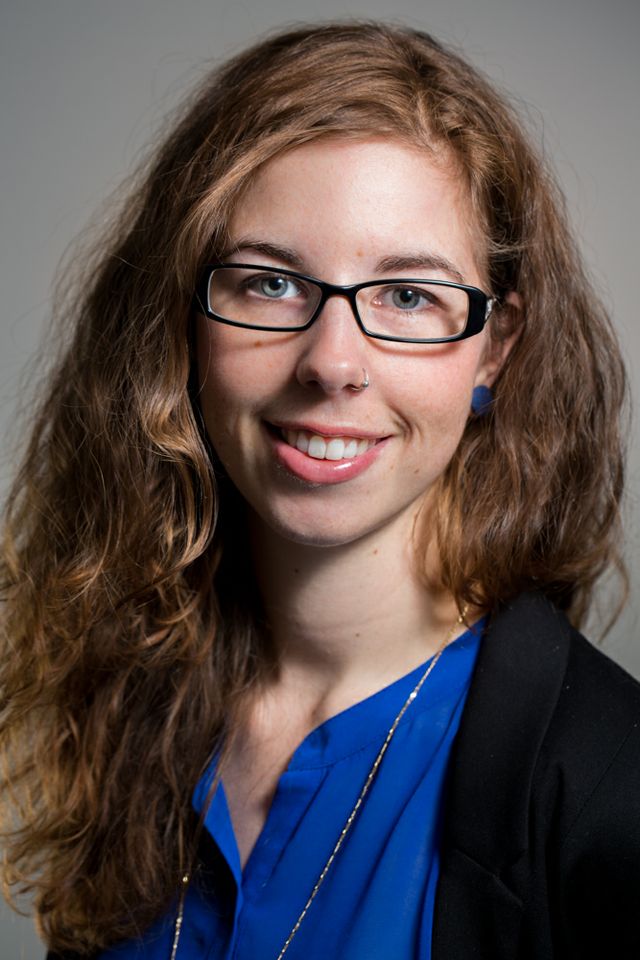 Many people think that teaching and study habits are a private matter. They also often believe that learning outcomes are solely a question of the students' own prerequisites. But research findings show that additional factors are also in play.
This is the conclusion reached by Anna Bager-Elsborg, MSc in political science and PhD student at the Centre for Teaching and Learning (CTL), which carries out studies and research into how the teaching at Aarhus BSS can be optimised. She herself also works as a lecturer. At BSS she lectures her Master's degree students in university teaching before they begin as student teachers. She is also a sparring partner for lecturers seeking advice and guidance from CTL on their own teaching.
Bager-Elsborg has really dug into the large study environment survey that AU carried out in 2014 among all of its approximately 38,000 students. The study environment survey also included a pilot project at BSS which is still in progress. This project looks into the correlation between marks, well-being and stress.
Severe stress prior to exams
Bager-Elsborg was not pleased with the results relating to stress in the study environment survey.
"Over a third of our students experience severe negative stress prior to exams. Taking an education shouldn't be like that," she says.
For Bager-Elsborg, reducing stress and gathering more knowledge about the factors that help students to learn as much as possible and get good marks – without negative stress – is a source of motivation.
Pilot project at BSS

Objectives: To examine whether there is a correlation between study strategies, marks, stress and the ability to plan own degree programme
Scope: All students at BSS
Started: 2014 concurrently with the study environment survey at AU
Offer to lecturers at BSS
All lecturers participate in mandatory supplementary teaching courses
All lecturers have the option of receiving individual sparring with CTL
Access to online solutions such as ballots, video etc. (including access to technical assistance).
Course overview for lecturers at BSS
Overview of digital tools for feedback
Three factors affect learning outcomes
The study shows three distinct factors that affect the students' ability to learn. One is a well-functioning teaching environment, which the university and the lecturer set the framework for – for example, the conditions for group work – and the methods the teaching staff use to find out whether the students learn as is intended.
The next is the individual student's own ability to plan their time and the way in which they work with the material. For example, whether they try to learn by rote or understand material in a context.
The third is the scope of peer support, understood as the feedback that the students give one another. A pivotal factor is the degree to which the students find their fellow students to be friendly and helpful, and that they are able to find help and support from their fellow students and find taking part in group work with other students to be fruitful.
The key to better marks and less stress
It is reasonable to suppose that the lecturer is always better at providing feedback than a fellow student. But research from the UK shows that a special learning space arises when the students correct one another's assignments or have to explain complex academic issues to each other.
The pilot project at BSS indicates that students who score high in the three factors – i.e. experience a well-defined teaching environment, have the ability to plan and prepare strategies for their own learning, and feel they get help and support from fellow students – get better marks and are experience less stress. This in turn means that marks and stress are factors that can be influenced.
Bager-Elsborg is in no doubt as to what works when a person has to learn something new, and that here both lecturer and student have a task to perform.
"If I'm giving a lecture and someone can sit there without doing any preparation, then I'm sending a signal saying that it's alright to be passive. Instead what we must do is set out clear requirements for both the students' preparation and their commitment," she says.
There are simple tools that lecturers can use to support this. Some areas of the university have chosen to timetable group work in predetermined groups that must take place at the university at specific times. The lecturers can also make use of online questions and video directly in their teaching.
"There is much the individual lecturer can do, but they are often somewhat reluctant, as many of them have old assumptions about their role as lecturer that must be challenged first," says Bager-Elsborg.
For example, the common assumption that the lecturers task is to present his or her knowledge to the students.
"But it's not enough for a lecturer to say something if only half of the students have understood it," she says.
Study habits that work
In relation to the students' study habits, what pays dividends are planning, persistence and preparation. According to Bager-Elsborg, research does not provide evidence that some students are better suited to intensive short-term studying for exams, rather than the long haul with preparation each week. She uses the example of a coat rack where knowledge is hung up, pointing out that:
"When they come to their lessons unprepared, the wall on which they need to hang the new knowledge is still empty, so they can't ask questions and reflect on what they have learned."
Some students genuinely believe that the best way for them to study and do well is to study less during the semester and then study intensively up to exams. However, Bager-Elsborg explodes that myth:
"It's an excuse they tell themselves," she says.
---
CTL – Centre for Teaching and Learning
CTL's research programme covers the following topics: the students' motivation and approaches to learning,
the quality of classroom instruction, how the perception of what constitutes good teaching differs among the academic disciplines,
the quality in PhD supervision, quality in learning environments, the international university, supermentoring and the professionalisation of teaching at the university.
Translated by Peter Lambourne.