Semester guide: Deadlines and events you don't want to miss
There are some deadlines you just don't want to miss. And there are events you're really going to regret missing out on. There are also days where you suddenly bump into a parade of people dressed all in white or where all Danes apparently eat duck. Here is your guide to – and explanation of – important dates during the coming semester that you can already note in your calendar. You're welcome.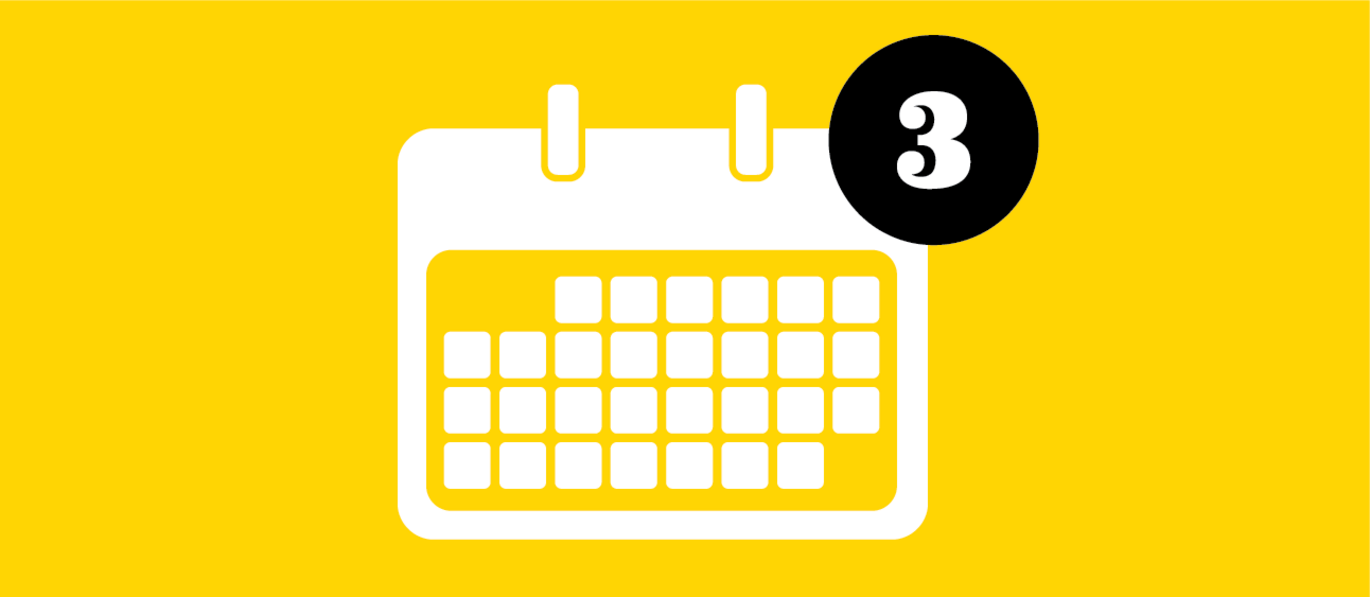 August
August-September - AU Intro Days
Intro days are organised for all international students at the beginning of the semester. They focus on the social aspects of the degree programme, getting to know your fellow students, and making sure everyone gets a good start to student life at AU. Date, time and location varies from degree programme to degree programme.
15 August - The application system for applying for exchange from AU to one of the university's partner universities for spring 2018 opens.
Deadline 15 September.
---
September
September - The autumn semester begins
The new students have finished the student orientation week, the old students are back from their holidays and teaching starts again. AU has a total of about 40,000 students and 10,000 employees, with students and staff divided between campus in Aarhus, Herning and Emdrup. The specific start dates vary for the various degree programmes.
4-6 September - Study Fair
Once a year for three days in September, the Main Hall at AU is converted into a veritable market. A multitude of companies, associations and organisations hand out free goodies and good offers ranging from insurance and bank accounts to dentist's appointments and bus tickets, while around 15,000 students wind their way past the many stands. For both new and old students, it is a good place to visit if you want to learn more about the many communities you can sign up for at AU, or just to get a free beer and enjoy the summer weather outside in the courtyard.
5 September - International Student Fair
The International Student Fair is a bit like the study fair (see above), but smaller and directly targeted at international students. Here you can meet the different student associations at the campus, sports clubs, Aarhus cafés and companies, and hear about job and career opportunities at BSS Career and much more. Omnibus will be there too. Don't miss out on a great opportunity to learn more about the activities taking place both at the university and in the surrounding city.
15 September - Annual celebration at Aarhus University
Each year the university holds a big celebration to commemorate its founding on 11 September 1928. There are speeches in the afternoon, a celebration address, the awarding of scholarships and prizes, the conferral of honorary doctorates and music in the Main Hall. In the evening the anniversary is celebrated with a concert in the Concert Hall Aarhus. Lots are drawn for tickets to the annual celebration among the employees who enter the ticket lottery. The students celebrate the day with Denmark's Biggest Friday Bar (see below).
15 September - Denmark's biggest Friday Bar and Sports Day
Each year, the students hold a one-day party around the university's outdoor areas to celebrate the founding of the university. During the day, students can take part in various sports competitions (or just watch), visit specially themed bars in the park, and then listen to live music in the University Park in the evening.
15 September - Deadline for applying for exchange from AU to one of the university's partner universities for spring 2018.
15 September – Deadline for applying for a Master's degree programme commencing in the winter 2017/2018
For non-EU/EEA/Swiss citizens WITHOUT a permanent residence permit (or equivalent) in Denmark with a Danish or non-Danish Bachelor's degree.
---
October
15 October – Deadline for applying for a Master's degree programme commencing in the winter 2017/2018
For EU/EEA citizens with a Danish or non-Danish Bachelor's degree and for non-EU/EEA/Swiss citizens WITH a permanent residence permit (or equivalent) in Denmark with a Danish or non-Danish Bachelor's degree.
16-20 October - Autumn holiday
The vast majority of study programmes do not have teaching during this week. The week off can be used for everything from catching-up on studying to a short holiday abroad.
29 October - Daylight saving time ends (put the clock back at 03:00 during the night between Saturday 28 and Sunday 29).
31 October - Halloween
An American tradition that has been slowly adopted by Danes. Many children dress-up in scary costumes and go trick and treating in their neighbourhood. Many people also cut scary faces out of pumpkins and place them on the doorstep with a candle inside.
---
November
1 November - Deadline for applying to visit Aarhus University on exchange during the Spring of 2018.
The application system opens on 15 September (for external students).
1 November - Deadline for applying for housing as an exchange student in the spring of 2018 (for external students).
1 November - The application system to apply for a Master's degree programme at Aarhus University opens (for external students).
3 November - Aarhus Symposium
Aarhus Symposium was founded by students at AU in 2011 and has since been held every year on the first Friday in November. The objective is to create contact and debate between students and key decision-makers. Prominent speakers from the politics, economics – and sometimes royalty – usually guest the event and get into a dialogue with the students. This year's theme is "Leading Through Change".
10 November - Martinmas Eve
On this evening, Danes celebrate Saint Martin of Tours. According to legend, he was appointed bishop in 371. However, he did not want the position and instead tried to hide among a gaggle of geese. The geese revealed him, and as a punishment it was therefore decided that goose should be eaten on this day. Today many people eat duck instead of goose.
13 -16 November - AU elections (tentative dates)
Each year, students elect representatives to sit on the university's boards of studies, academic councils and the university board. The final date for the election has not been decided, but expect to see election campaigns at the campus with election posters, pamphlets being handed out and a panel debate between the lead candidates. In Danish, the four political student organisations at AU are called: Studenterrådet på Aarhus Universitet, Frit Forum Århus, Konservative Studenter and Borgerlige Studerende Aarhus.
21 November - Municipal and Regional Elections.
Expect to see election campaigning and election posters around the city from Saturday 28 October and for 24 days after that. Representatives will be elected to both the municipal town council in Aarhus and to the regional council, which covers the entire Central Denmark Region. All Danish municipalities and regions hold elections on the same day.
---
December
1 December - Application system for AU Summer University 2018 opens.
1 December - The application system to apply for exchange from Aarhus University to one of its partner institutions in the autumn semester 2018 and the spring semester 2019 opens.
3 December – First Sunday of Advent
The day is often marked by lighting a candle in an Advent wreath. The wreath has four candles, with one being lit every Sunday until Christmas. Many children also get Advent presents.
10 December - Second Sunday of Advent
13 December - St. Lucy's Day (Luciadag)
To mark the death of the Italian saint St. Lucy, the majority of schools and upper secondary schools have a St. Lucy's Day procession. The participants in the procession are dressed in white and all carry candles. At the front is the St. Lucy's Day bride with a wreath of candles on her head. There is also a St. Lucy's Day procession at Aarhus University, but it's more untraditional. It is organised by the TAAGEKAMMERET party committee. Both women and men take part in the procession, the wreath of candles is constructed using an old scooter helmet, and considerable quantities of alcohol are consumed along the way.
Mid-December - Holiday farewell for all international students
17 December - Third Sunday of Advent
24 December - Fourth Sunday of Advent
24 December - Christmas Eve
Danes celebrate Christmas on the evening of the 24th with a big dinner (typically duck or pork roast), singing around the Christmas tree and the opening presents. The majority of stores, workplaces and banks are closed. The university chaplains at AU usually arrange a Christmas Eve celebration for both Danish and international students.
25 December - Christmas Day
26 December - Boxing Day
31 December - New Year's Eve
Most offices are closed and stores close early.