The university chaplains invite all students to a Christmas Eve celebration at Studenterhuset
For the first time since 2019, the university chaplains can invite students to a Christmas Eve celebration with no public-health restrictions. All students – Danish and international – are welcome to an evening of traditional Danish Christmas hygge with all the trimmings, from mulled wine to dancing around the Christmas tree.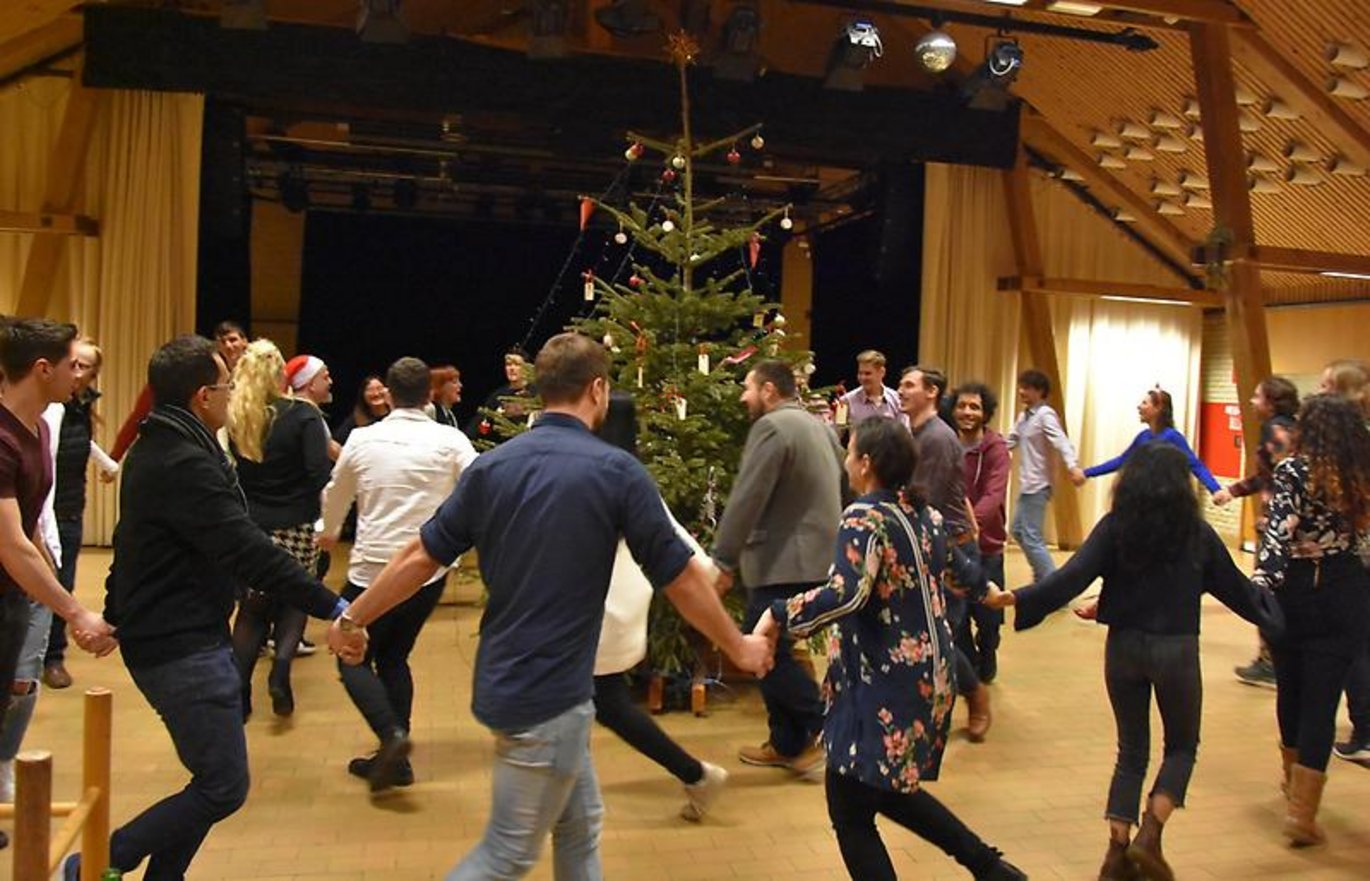 CHRISTMAS EVE AT AU
Hosted by the AU university chaplains and Studenterhus Aarhus
The Christmas celebration at AU is for all Danish and international students who are unable to be with their families for Christmas. Students of all cultural and religious backgrounds are welcome.
Tickets cost 100 kroner, which covers food and drink.
Christmas Eve at AU will take place at Stakladen, Nordre Ringgade 3, 8000 Aarhus C.
Read more about the event (registration deadline 16 December)
"Do you want to enjoy Christmas with other students? Is your family in another country or do you just want to try something different?" The student chaplains' invitation to celebrate Christmas Eve at Studenterhuset starts with this very welcoming question.
The festivities will begin at 3 pm with hygge, traditional Danish mulled wine (gløgg) and Christmas doughnuts. Then there will be an optional Christmas religious service at a nearby church, followed by a traditional Danish Christmas dinner - and more hygge - including a dance around the Christmas tree. All the participants need to bring is a gift to give to one of the other participants.
A long tradition with a few Covid interruptions
This is far from the first time the Christmas tree at Studenterhuset will be lit up. The university chaplains have a long tradition of hosting Christmas Eve for all students who either can't be with their families that evening or who just want to be part of a big Christmas celebration and meet a lot of new people. The celebration was cancelled in 2020 due to Covid, and last year only 50 people could participate.
One of the organizers of this year's Christmas Eve celebration is Ninni Schaldemose, an administrator who works with the chaplains. She was organizer for the event for the first time in 2020, when it was cancelled due to Covid, and she's looking forward to a Christmas completely without public-health restrictions at Studenterhuset this year.
"This year, we're definitely counting on the event being exactly the way it's supposed to be. We've set it up so that people can make lots of Christmas decorations and eat Christmas treats in the afternoon both before the Christmas church service and during it, for those who would rather stay at Studenterhuset," Ninni Schaldemose said.
There are normally lots of people at the evening celebration, she added.
"There was also one year when some guests just showed up at the door and asked if they could join in. And they were welcome, naturally," she remembered.
Looking forward to dancing around the Christmas tree for the first time
Attila Fekete participated in the Christmas celebration last year, and is looking forward to returning to Studenterhuset on the 24th of December again this year. He volunteers at Studenterhuset and finished his Master's degree in European studies this fall. Attila Fekete is from Canada and has been living in Aarhus for two years. He had been planning to participate in the 2020 celebration for the first time, both because of high prices on plane tickets home and Covid.
"When the event couldn't be held at the university in 2020, some of the organizers asked if if I could invite some guests to my residence hall. I agreed, and we ended up with a group of ten. It was intimate, which was nice and very hygge," he said.
This year, there aren't any Covid restrictions to keep Attila Fekete in Aarhus over Christmas, but he's still looking forward to celebrating Christmas with some of his friends from Studenterhuset and to meeting new people on Christmas Eve. And there's one thing in particular he's looking forward to:
"Last year, we couldn't dance around the Christmas tree at Studenterhuset because of the restrictions, so I'm looking forward to experiencing that this year," he said.
Translated by Lenore Messick