International students and employees at AU must pay for tax cuts
Under a new law which comes into force on 1 July 2018, international students at employees at AU will have to pay up to 12,000 kr. for Danish courses which used to be free. According to the manager of the International Office at AU, the new law will conflicts with the desire to retain international students and employees.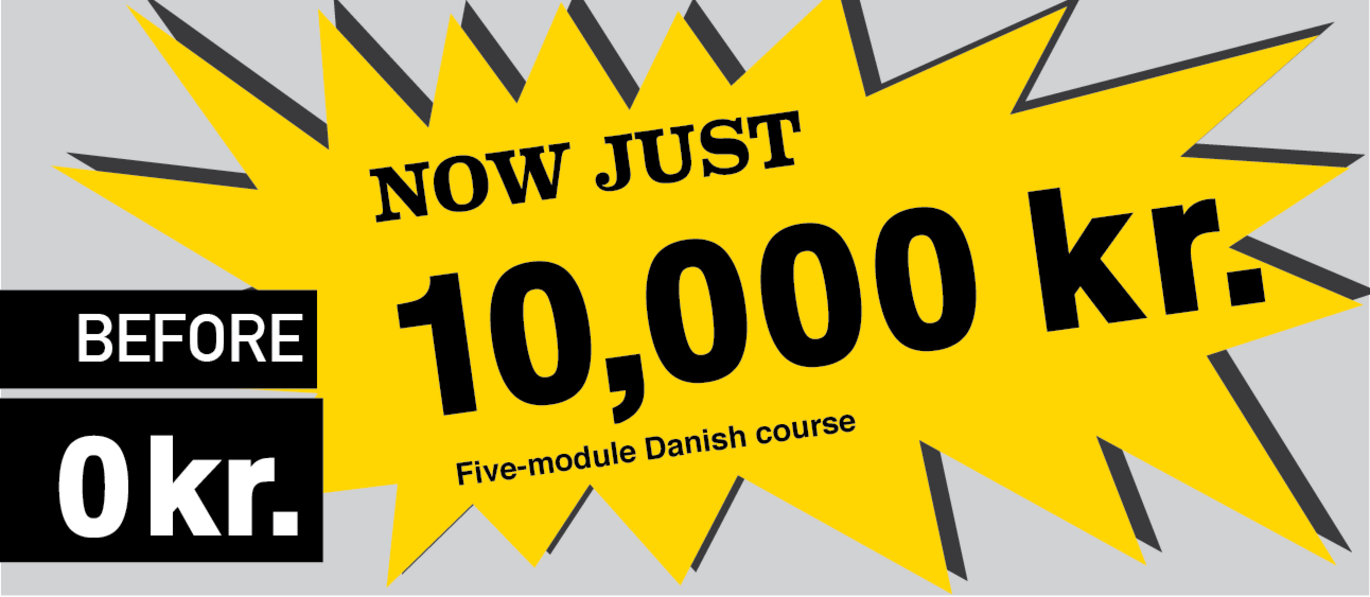 The new tax package agreed on by the government and the Danish People's Party, which includes five billion kroner in tax cuts, will be financed in part by charging tuition fees for Danish courses. This means that international students and employees at AU will have to pay 2,000 kroner for each module of Danish starting on 1 July. A Danish course typically consists of five modules lasting between 18 months and two years, and will cost 10,000 kroner. Students also have the option of taking a sixth module, which brings the price to 12,000 kroner.
Rikke Nielsen, manager of AU's International Office is concerned that students won't be able to afford the courses, and that fewer of them will learn Danish as a consequence. This may mean that fewer internationals remain in Denmark after they finish their studies.
"The law conflicts with the desire to retain these students in Denmark after they finish their degrees. One thing that makes it hard to find a job in Denmark after graduation is that you need to speak the language. There aren't many Danish companies where you can get by just speaking English, and for this reason, lack of proficiency in Danish is a barrier, if we want to retain international students after graduation."
Facts

At the beginning of February, the government and the Danish People's Party agreed on a new tax package.
The tax package includes 5 billion kroner in tax cuts towards 2025.
The cuts will be paid for in part by introducing tuition fees for Danish courses which have been set at 2,000 kroner per module.
A typical Danish course consists of five or six modules.
Since July 2017, participants in Danish courses have had to pay a deposit of 1,250 kroner.
After the deposit was introduced, the number of participants in the courses from AU dropped from 1,304 to 643.
Another source of financing for the tax package is the introduction of residency requirements for government cash benefits (such as SU grants, unemployment benefit, government pension and other forms of income support) for internationals.
The tax package (in Danish)
An important aspect of integration
Nielsen also believes that the tuition fees may have negative consequences on integration, both at university and in society in general.
"The language builds bridges. If you learn Danish and become proficient at it, it's easier to be part of your academic environment, because while the course may be taught in English, many social activities take place in Danish. The lack of Danish proficiency also has consequences for your chances of getting a student job, and it both affects integration during your studies and your chances of getting a foothold on the labour market afterwards."
According to Nielsen, AU performed a small survey among some of the international students who chose to return home after finishing their degree in Denmark. And their lack of Danish skills was precisely one of the factors they pointed to as making it difficult to find a job, even though they wanted to stay.
"The general picture is that they want to stay in Denmark, but that they can't get jobs if they don't speak Danish, with the exception of positions in a large company where English is the corporate language. So language is really important."
A benefit to society
In November 2017, Universities Denmark presented a report on the value of international students – in hard cash. The report shows that on average, international students have contributed 779,000 kroner to Danish society eight years after their graduation.
"You can also argue that there's a qualitative benefit to bringing different people into the Danish labour market who have a different perspective on things, " says Nielsen.
She points out that international students can also contribute by taking jobs in fields where there is a shortage of qualified labour, for example IT.
A solution for students is on the drawing board
AU has not yet decided what to do about the problem.
"We are analysing what Danish courses are currently available, whether Danish courses are something students want, whether they're taking the courses and so on. On this background, we're going to discuss the best way we can provide support for the students," explains Nielsen.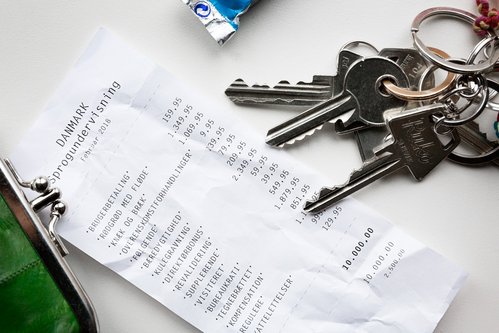 The new law on tuition fees has made acquiring a Danish vocabulary a pricey proposition. Graphics: Astrid Reitzel. Photo: Melissa Yildirim.
Focus on flexibility and quality for AU employees
AU is closer to finding a solution when it comes to the employees' options for learning Danish. Here the focus is less on tuition fees and more on creating quality and flexibility, explains Michael Winther, who is manager of the Talent Development unit at AU.
"I'm really focused on making sure that we put together a good Danish course offering so we end up with something that fits into the employees' daily lives and is something they want to participate in. A lot of them are very busy, and they do a lot of work-related travel."
For these reasons, AU is working to develop an alternative course offering which is tailored to the needs of university employees.
"We will have two options. One will be the courses from Lærdansk we have today, and then there will be an alternative where we'll put together small classes at department or school level which can be tailored in terms of time and level of difficulty. I think that will appeal to a lot of people, and the affiliation with your school or department will mean that far fewer participants will drop out."
Winther is referring here to a project which has been running at Moesgaard over the past three semesters. He expects that the new Danish courses will be made available to the departments and schools around Easter.
Employees are less focused on price
Winther believes that the law will have a different and less dramatic effect on employees than on students, because their salaries put them in a stronger financial position.
"Of course, individual employees will need to consider more carefully whether the Danish course is something they want to commit to. Today, a lot of people sign up, but there are also a lot who don't finish the course. When you have to pay, you have to consider whether you're willing to make the commitment."
However, Winther believes that language courses are just as important in relation to retention for employees as they are for students.
"We know that employees with an international background feel more at home in Denmark when they are able to function in society in Danish. Some of them will also need to function in Danish in a professional context, for example in connection with supervision of student projects or teaching."
Fatal for society and for business
At Lærdansk Aarhus, which currently offers Danish courses in collaboration with AU, school superintendent Marianne Jensen is also concerned about how not taking Danish courses will affect integration.
"We did a survey of all of our self-supporting students, the students who will be affected by the government's new law. They were asked if they were willing to pay 2,000 kroner for each module. 74 per cent answered no," she explains.
Of the approximately 2,100 self-supporting students at Lærdansk in Aarhus, 643 are Aarhus University students, employees or partners of employees.
"We believe that the law will have rather fatal consequences, for the participants who decide to drop Danish courses, for business and industry, and for society as a whole," says Jensen, who adds:
"It may mean that non-Danish citizens in society will be citizens who can't speak and understand Danish. It may have consequences for integration, both in society and in the workplace. You don't just learn language: you learn something about Danish culture and Danish society, about work culture and educational culture. If you don't learn that, you're in a much worse position when you get out into Danish society."
The number of students has fallen
The government's new law is the third new piece of legislation on Danish courses for internationals within just three years. Last summer, a law was introduced requiring all course participants to pay a 1,250 kroner deposit before they can join a course, and in January a new voucher system for free Danish classes was introduced which is aimed at getting participants through the programme more quickly.
Even though you get the deposit back when you finish the course, the deposit law has led to a major drop in the number of participants from AU at Læredansk Aarhus since July 2017, when the law came into force.
In the spring of 2017, before the law came into force, 321 employees, 16 partners of employees, 588 full degree students and 379 exchange students were registered for Danish courses. This semester, there are 191 employees, 33 partners of employees, 396 full degree students and 2 exchange students – down from 1,304 participants to just 643 from AU, or from 925 to 620 if exchange students, who are only in Denmark for one semester, are excluded from the total.
This is precisely why Jensen is worried about the consequences of the new law, which requires participants to pay significantly more, and which doesn't refund any of the money. She also finds it frustrating that the government has introduced yet another law in this area.
"According to the government, the deposit and the voucher system would increase participant motivation and reduce drop-outs. But we haven't even seen the effects of the deposits and the voucher system yet," she points out.
Translated by Lenore Messick