Around 15 employees facing the axe at ST
Approximately 15 employees from three departments risk being fired in the near future as a result of a new round of cutbacks at Science and Technology (ST). The faculty must find total cost reductions of DKK 150 million in the period 2016-2019.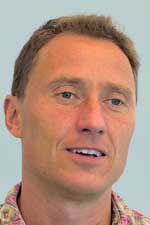 A total of DKK 38 million out of the total cost reductions of DKK 150 million must be found at departments, centres and the Dean's Office. While this means everyone will have to make savings, the three departments in question will have to make such deep cutbacks that they will lead to redundancies among the employees. All three departments share a common trait – they have been running at a loss for several years.
Overview of total cutbacks at ST

The Faculty of Science and Technology must save a total of DKK 150 million during the period 2016-2020.

The faculty management team's cost reduction plan contains savings in the following areas:
Buildings: Approximately DKK 22 million
Departments, centres and the Dean's Office: Approximately DKK 38 million
Approximately DKK 87 million by cutting back on the faculty's joint funding for development, strategic investments, co-financing and hedging.
Dismissals at the Department of Bioscience
Approximately nine employees face losing their jobs at the Department of Bioscience in Roskilde, Kalø and Silkeborg (RKS), where cutbacks of DKK 2.2 million are required as part of the total cost reduction of DKK 38 million, which must be partly found at the departments.
Department Head Peter Henriksen explains that the department has run at a loss for the last three years and that as things stand, it will end the year with a budget deficit of DKK 11.8 million.
With this in mind, the department head and Dean Niels Christian Nielsen have agreed on additional basic funding of DKK 10 million for 2016-2018 and DKK 9 million for the years 2019-2020. But the increased basic funding is not enough to cover the budget deficit that the department can expect for 2017-2020.
The forecast is for a budget deficit of DKK 2.1 million in 2017, DKK 3.5 million in 2018 and DKK 4.1 million in 2019 and 2020.
"We can't find these savings without payroll cutbacks. We hope that voluntary resignations will be sufficient, but if they aren't, then we will have to resort to dismissals. The total cost reductions correspond to approximately nine positions," says Peter Henriksen.
The department head has not finally decided on how the dismissals will be shared among the three locations.
"We're a unit that is spread over three locations. Where we end having to make to dismissals depends on the number of voluntary resignations. We've set a deadline until 5 September for discussing voluntary resignations, and after that date we'll see where we are in relation to the decisions we have to make about the future," explains Peter Henriksen.
This means that the department head is also unable to say anything at present about the distribution of dismissals between academic and technical and administrative staff.
Hits you hard
Senior Researcher Beate Strandberg is the union representative for the academic staff at the Department of Bioscience in Silkeborg. She says that staff were aware that more general negotiations were taking place regarding the department's finances.
"We knew that there had been negotiations with the dean about our basic funding and administration contribution, and the results of these negotiations were presented at an extraordinary local liaison committee meeting last Wednesday. I have to say this really affected me emotionally. Even though you know things are brewing and cost reductions are possible, it still hits you hard when things become specific and now it's about your own colleagues and you yourself. We also have the most recent major round of cutbacks fresh in our memories here at the department," says Beate Strandberg.
In 2014, 23 employees had to leave Bioscience (RKS) as part of the university's major round of cutbacks. Seven were dismissed, while the remainder chose either a senior staff scheme or voluntary resignation.
Problematic that there is a number already
Beate Strandberg finds it problematic that the approximate number of employees who risk dismissal in this round has already been made public.
"We haven't been asked to dismiss a certain number of employees. Quite the opposite. We've been met with cost reduction demands. My view is that you should see if they're other possibilities before going public with the number of dismissals, even if these are only rough numbers."
Find the cause of the deficit
She underlines that the department will have to "keep on dismissing employees" unless it starts looking into the cause of the repeated budget deficits.
"We must look at the cause and see why this keeps happening to us instead of dismissing employees and thus losing sources of revenue. This applies to our basic funding, but also our administration contribution. We pay an administration contribution that's based on the situation in 2013, where we had many more employees, as well higher revenue, as has been pointed out to the faculty management team a number of times."
Department Head Peter Henriksen explains that the department's contribution to administration and to a faculty pool for strategic initiatives is DKK 50 million a year.
"We have suffered under a high administration contribution, which makes it difficult for us to rectify our financial situation, because we can't touch the contribution," says Peter Henriksen.
The departments' contribution to administration and other factors is calculated according to a distribution key on the basis of the financial situation in 2013, at which time Bioscience (RSK) had more employees and higher revenues than has been the case in the following years. Peter Henriksen has tried to get the administration contribution altered so it is instead based on the situation in 2014. But in vain, as this would impact the other departments hard.
"I've been in the minority with this proposal, but after negotiations with the dean we have now received increased basic funding that can compensate for the high administration contribution. But, unfortunately, the contribution is rather lost in the whole situation, as we will end up in a worsening financial situation in the coming years. That's why the cost reductions are necessary."
Is the financial situation also due to not being good enough at making money for the department?
"We are good at making money, but the area of public sector consultancy has been under pressure in recent years. For many years we've suffered due to a reduction of two per cent of our budgets. That's the situation that the rest of the university is also experiencing now.
How do you suggest remedying the financial situation?
"As I said, we're reasonably good at making money, and with the framework we now have with the increased funding and a reduction in our payroll, I believe that in future we will be a sustainable unit. But we must continue to be very active with our applications and we must also succeed in finding opportunities in new markets," says Peter Henriksen.
Layouffs at Molecular Biology and Genetics
The final straw. That's how Department Head Erik Østergaard Jensen describes the DKK two million that the department has been required to save out of the DKK 38 million.
The Department of Molecular Biology and Genetics has had an annual deficit of approximately DKK seven million over the past three years, and Department Head Erik Østergaard Jensen expects a deficit of DKK six million this year.
"The consequence of this is that we'll end up cutting approximately four jobs," says Department Head Erik Østergaard Jensen.
At present he cannot say anything about where the four employees will be found, or about the distribution of dismissals between academic and technical and administrative staff. Neither can the department head say anything about whether this will be the final dismissals in a round of cutbacks at the department.
"I can't predict anything in that respect, because we're extremely dependent on external funding. We attract annual overheads of around DKK 30 million which cover the majority of our basic costs, so it all really comes down to whether the employees are still good at attracting money to the department. So you can never say never, but we have trimmed the organisation and the employees are good at obtaining external funding, so that after this tough experience where we've really hit rock bottom, I've got a positive view of the future," says Erik Østergaard Jensen.
The employees at the two departments have until 5 September to decide whether to take voluntary resignation. The employees that the department is planning to layoff will receive consultation letters regarding contemplated dismissal on 14 and 15 September.
Layoffs at the Department of Animal Science
The final department that faces making such deep cuts that they will cost employees their jobs is the Department of Animal Science. Two employees are being made redundant as a consequence of a management decision to shut down the fish section.

Translated by Peter Lambourne.