Guide: Events at AU in October
During October you can see young researchers compete in three-minute lectures, get into your running gear for a good cause and take part in the Beat Cancer Run, or get a more varied view of the otherwise much-maligned Gellerup district as the cultural festival "A View" takes a closer look at Aarhus West.
Give us a hint!
Do you know an event that other students or employees should also know about?
2-6 October: Cultural festival will give a more varied picture of Gellerup
Gellerup is often mentioned in connection with gangland wars and ugly concrete tower blocks. But Studenterhus Aarhus aims to provide a different view with its cultural festival. The "A View Festival" will focus on Gellerup's art and culture over a five-day period. The festival comprises different events focusing on dance, music, literature, architecture, food and much more from the small neighbourhood in Aarhus West, and you can take part in all of them independently of each other.
3 October: Lectures only lasting three minutes with only three slides
Photo: Lars Kruse/AU Kommunikation
Tired of sitting through three hour lectures with 300 power point slides? Then this event is perfect for you. Young researchers at AU have accepted the challenge of presenting their research in only three minutes – using only three slides. The participants have not yet been announced.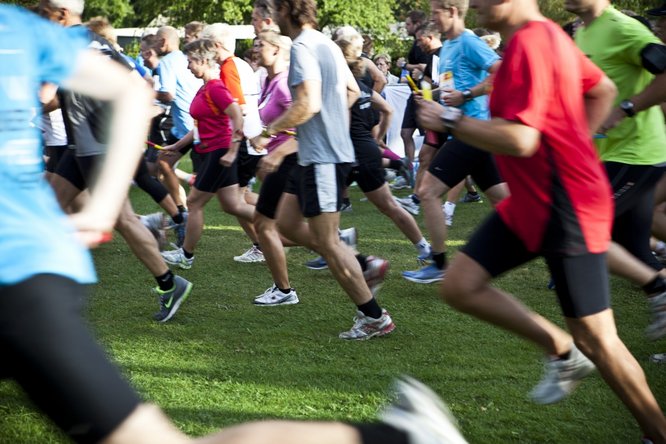 Photo: Jesper Rais/AU Communication

For the third year in a row you can get into your running gear and trainers for a good cause when the Beat Cancer Run takes place in the University Park. You can walk or run 2.5 or 5 km, and the whole of the DKK 75 registration fee will be donated to the Danish Cancer Society. The run is part of the national Beat Cancer Week and last year the run contributed with DKK 65,000 to the fundraising campaign.
26 October: The first female professors at AU
Even though Aarhus University was founded in 1928, the university did not get its first female professor until 1954. In this lecture, professor at the Danish School of Education Ning De Convinck-Smith takes a closer look at AU's first female researchers, and how they were received by academia. After the lecture, there will be an opportunity for questions and debate between researchers and students.