Learn Danish and teach your language to a Dane
If you want to get really good at a new language, conversation is key. That's the philosophy behind the network Swap Language, which two AU students started in 2015. Since then, the idea has spread to 4500 users from 100 different countries who are learning each other's languages and cultures through informal dialogue.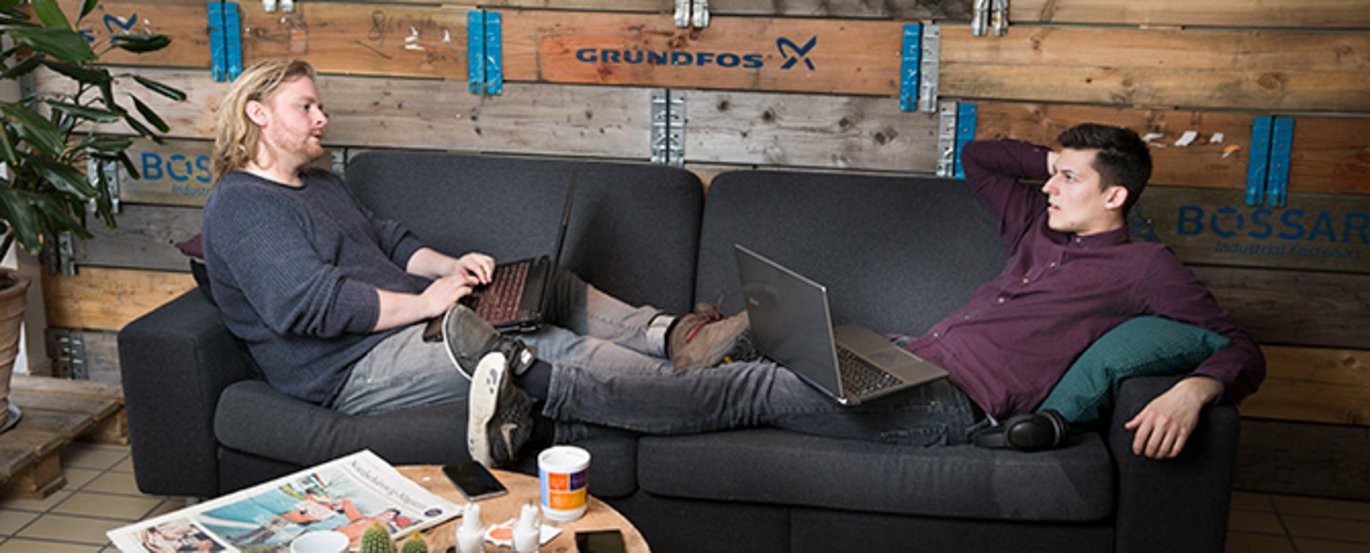 On a chilly night at the cozy Tir Na Nog bar in Aarhus, four people from four different countries sit around a table with beers in hands.
Each person at the table speaks English. But David Quiroga, who is from Colombia, also speaks Spanish and is learning Danish. He chats with Rami Primdal, a Dane, who is looking to brush up on his Spanish. Across the table, Marianne Tiihonen from Finland and Marina Kluichkko from Russia jump in with the smattering of Danish they've learned, in addition to their native Finnish and Russian. The conversation skips between Spanish, Danish and English as the four discuss Danish culture and language apps. At the next table over, German and French are also thrown into the mix.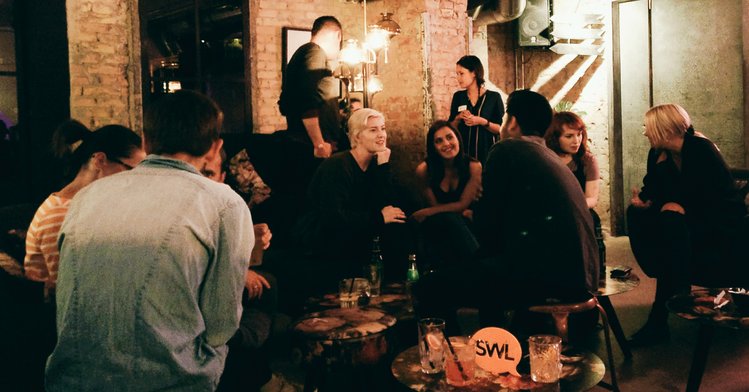 Swap Language meet-up at the Tir Na Nog bar in Aarhus. Photo: Swap Language
A language melting pot
This corner of the bar has turned into a miniature language melting pot thanks to the efforts of local startup Swap Language. The Aarhus-based tech platform facilitates in-person language exchanges, with the goal of helping travelers, students, and language enthusiasts share cultures and learn from native and fluent speakers.
Swap Language founders Allan Hermansen and Nichlas Walsted, both IT communications Master's students at Aarhus University, believe that these in-person conversations are the path to true fluency, even in the age of translation technology and language apps.
"Duolingo is one of these many apps that teach you sentences, and you have fun on your phone for five minutes and that is it," says Hermansen. "But languages are all about communicating. I learned Spanish by traveling and just by meeting people on the street. That's something that I would never be able to learn from an application or an online Skype communication."
Language partners and meetups
Here's how Swap Language works. Users sign up for the online program, sharing their location, the languages they speak and the languages they want to learn. Users can browse potential language partners and set up a time to talk either online or in person. There are also in-person meetups with bigger groups of language learners, like the one at Tir Na Nog in Aarhus.
In language trouble in Argentina
The idea for the startup came from Hermansen's own challenges learning Spanish in Argentina. He had studied the language for several years and practiced with Argentinian friends while traveling in New Zealand, but when he arrived in Buenos Aires, he realized he was in over his head.
"After two weeks of not being able to communicate…that almost made me buy a ticket home," he says. "So I started taking this seriously."
He signed up for an intensive language class and started his own mini-language experiments, stopping people on the street and asking 'Do you know where the supermarket is?' And even though he could only understand a bit of what they said - Argentinians speak very fast, he notes - he picked up on the tone and body language that helped him understand the nuances of the language.
Conversations with native speakers help you learn faster
Hermansen's personal experience learning Spanish is backed up by language research as well. Studies on learning a second language have generally concluded that classroom instruction is better. However, in 2012 researchers from Georgetown University found that immersion, including conversations with native speakers, helps people learn a language faster and develop full native-like brain processing of grammar.
Popular service
And there definitely appears to be an appetite for the service among language enthusiasts. Since launching in 2015, Swap Language has grown to over 4,500 members across nearly 100 countries, with meet-ups popping up across Europe. The most popular languages include Danish, German, French and Spanish, but users speak languages from around the world, including Chinese, Hungarian, Bengali, and Swahili.
Danish may soon become even more in-demand on the platform. A new tax agreement is set to end subsidies for free Danish classes for foreigners. Starting July 1, each module will cost 2,000 kroner (). Given that Aarhus and Copenhagen already have the most members of any city on the platform, particularly among foreigners who want to learn Danish, Hermansen sees this as an opportunity for the startup.
READ MORE: International students and employees at AU must pay for tax cuts
A way to practice your language skills
But Mette Lange, deputy head of the language center Laerdansk Aarhus, insists that this service should be seen as supplementary.
"I see Swap Language as a way to practice what you are already familiar with from the teaching in classes," states Lange in an email. "Language teaching is a job for specially educated language teachers."
Not perfect - and that's fine
However, Swap Language's users at Tir Na Nog appreciate the startup's horizontal approach to language learning.
"You know that the other person is also trying to learn a language, and that makes it easier for you," says Quiroga, who hails from Colombia. "You understand the other person wants to communicate but may not be able to say it perfectly. And that's fine. When you interact with native Danes in daily life, they speak really fast and switch to English."
"That's super important, because in this context everybody understands the language level is nonexistent or very low," adds Finnish Tiihonen. "To know that the other person is aware of that, I don't get these weird facial expressions like 'What did you say?' It's more like 'Yeah, yeah, go on! Go on!' That's the magic."
Facing stiff competition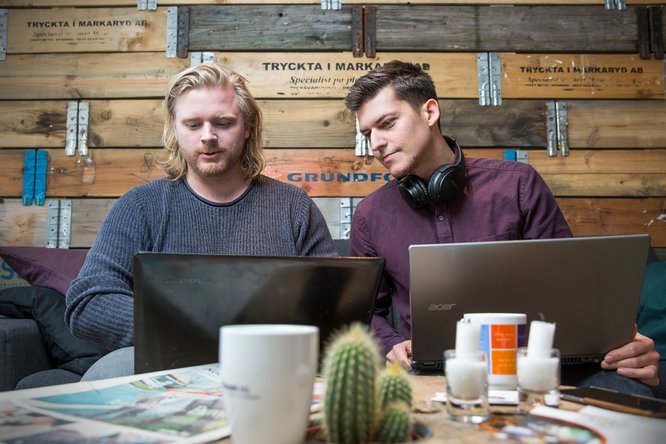 Photo: Lars Kruse
Hermansen and Walsted plan to work on Swap Language full time after graduation. The startup is currently pre-revenue, and a major focus moving forward will be on revenue models and potentially raising funds to keep the startup going.
They will face stiff competition. Language tech superstars Duolingo and Rosetta Stone have millions of users combined. And Google recently debuted a pair of headphones that whisper live translations in your ear and and broadcast your translated response through a speaker.
But Hermansen believes that the mutual vulnerability and compassion that comes with learning a language is what will keep Swap Language afloat, even in such a competitive industry.
"If you talk to a person in a language he understands it goes to his head. But if you talk to a man in his own language he grew up with, you talk to his heart," he says, quoting Nelson Mandela. "If you show a person that you really sat down and understood his language, his culture, and the way you speak, just like him, he will do anything for you. And he will be a good friend, just by learning a language. And that's something that an earplug will never be able to do."