PhD committee chair: It's time for AUPA to deliver results
She's not the type who says 'no'. Viktorija Kulikovskaja would rather say 'yes' – most recently to the job of chair of the Aarhus University PhD Association (AUPA). And she intends to put the chairpersonship to work.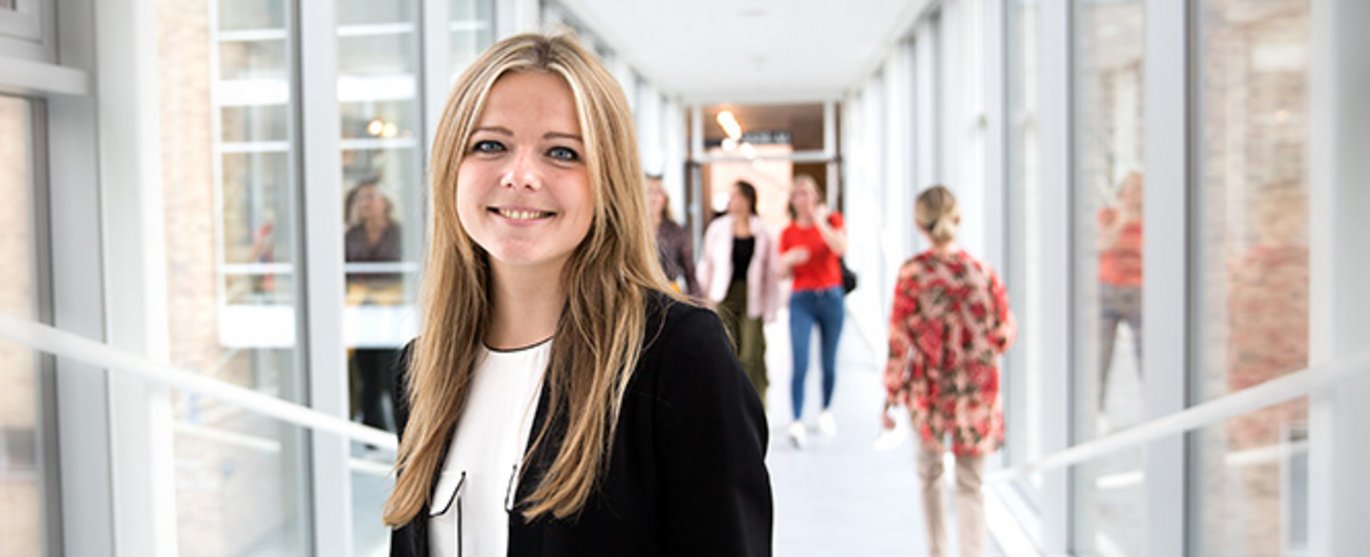 Lithuanian Viktorija Kulikovskaja is chair of the PhD association AUPA, and the story of how she got there is a fine illustration of her philosophy of life. She generally asks herself 'Why not?' The question – or maybe the answer – led her from her university studies in Lithuania to Aarhus on exchange and later a to PhD, and now to a chairpersonship as well. And she intends to use her new position to make a difference:
because according to Kulikovskaja, AUPA doesn't have much influence. But she intends to change that. The new chair wants to strengthen the links between the faculties' PhD associations here at AU, as well links to the national PhD association PAND (PhD Association Network of Denmark). Because this is the only way to make PhD students' voices heard. And to bring about change. Because as Kulikovskaja says:
"We can't just discuss it, we have to make it happen – including at the national level."
I could always go back
But before we explore what it is that needs to happen, let's turn back the clock nine years, to before the PhD – and before the rainbow over ARoS and the construction of DOKK1, both of which Kulikovskaja thinks are part of what makes Aarhus special.
That's when Kulikovskaja came to Denmark, a Lithuanian exchange student in unknown territory:
"I came to Aarhus for the first time precisely nine years ago today. And I knew nothing about the culture. I'd read a little bit, but most of all I took it as an adventure."
In any case, Danish culture didn't have a decisive influence on her decision to study here. It was based on something else:
"It was the quality of the degree programme. At that point, Aarhus University ranked much higher than my university in Lithuania," Kulikovskaja explains.
And with that attitude, a one-semester exchange became an extended exchange, which in turn became a semester as a visiting student and ultimately enrolment in an AU Bachelor's degree programme. After returning to Lithuania for a short period, she return to Denmark for an internship at Grundfos and a Master's degree in innovation and management from Aarhus University.
"I could always go back, so why not explore?" Kulikovskaja asks.
Yes, why not? Some of the international friends she'd made at AU would probably have responded differently, pointing to the notoriously reserved Danish national character. But Kulikovskaja has embraced that
"I know people who didn't like the Danes because Denmark and Scandinavia in general are much more introverted than many other people. But I like the Danes, even though it took me a year before I got my first Danish friend," she says.
On top of AUPA
Kulikovskaja first decided to become active in an association a little less than a year ago. She didn't have a particular association in mind, but when she heard about AUPA from a friend, she was ready – as usual:
"I've never been involved in a political association before, so why not try it?"
She contacted the former chair, and events moved quickly after that. She was invited to visit, and was immediately offered a position on the board – somewhat to her surprise. Three month later, she became vice-chair, and by April she was chair.
The path to power in AUPA is short. This is probably in part due to the fact that you're not a PhD student for very long, combined with the general lack of interest in active involvement in volunteer associations:
"A lot of people aren't really familiar with AUPA, some are overburdened with work, and there's just a lack of incentives for membership on the board," explains Kulikovskaja.
She would like to see work in PhD associations such as AUPA included in students' paid department hours by the university. And this is just one of the many things she wants to change.
China calling
Kulikovskaya's list of key issues includes working to get PhD students' Danish language classes included in their department hours rather than being an extracurricular expense for the individual student.
READ MORE:Danish courses for DKK 1,250 instead of DKK 10,000 for international students and employees at AU under new agreement
She is also prepared to contest the rector's new norms for appointments to permanent academic positions, according to which research abroad for an extended period will be one of the employment criteria for these jobs, as previously reported by Omnibus.
READ MORE: The rector stands firm in the face of fierce criticism from PhD students
But at the very top of her list is a desire to help PhD students avoid stress in a whirl of meetings, conferences, study and publication of academic papers. Which is not to say that she thinks that the workload of PhD students at AU is unreasonable. But the students need help navigating their PhD role.
"First it's a matter of attempting to avoid stress instead of focussing on treating it. Students need tools to handle it, and so that's why we're making a written guide for them," says Kulikovskaja.
Chairperson or not, Kulikovskaja herself is on her way to a new adventure: China is calling, and she will be staying there for most of the autumn in connection with her PhD. However, she doesn't see herself as being in the danger zone for stress:
"I can handle it, but that's also because I have supervisors who support me. And it's not like that for everyone."