The degree programme that attracts brainy students
With a minimum average mark of 11.1, cognitive science has taken first place among the AU degree programmes with the highest minimum average mark for admittance. The large number of applications to a degree programme that is only one-year-old has surprised both lecturers and students.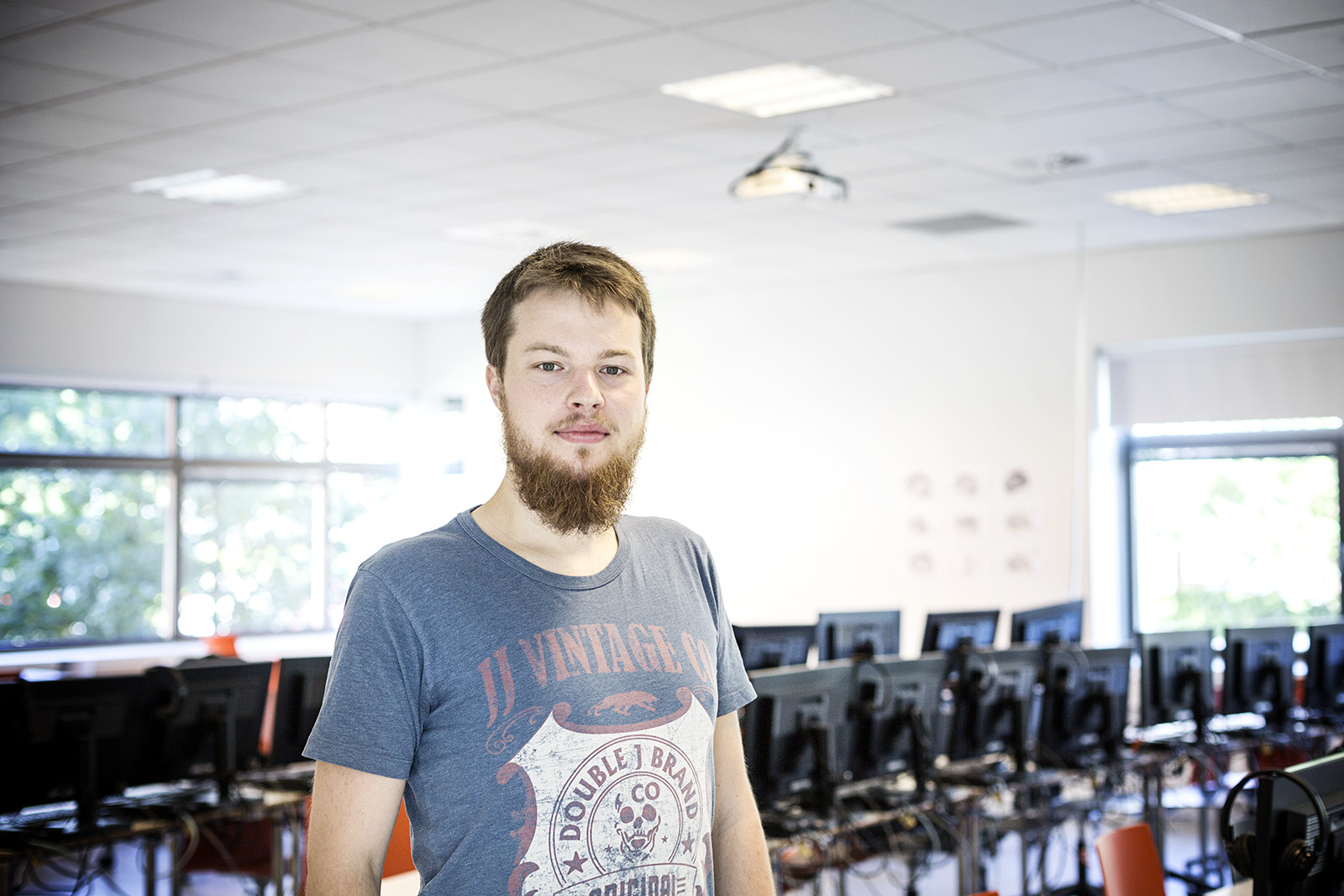 When Julie Liep Sohn and Ludvig Olsen are at family celebrations or out in town, they are often asked what they are studying. But when they reply cognitive science at Aarhus University, they are often met by quizzical looks.
"Usually I just say that I'm studying the brain and its cognitive processes," says Julie Liep Sohn, who is one of the first batch students to begin the new degree programme.
AU's new top scorer
Come September, both will begin their third semester studying cognitive science at Arts, which is the degree programme at Aarhus University that this year requires the highest minimum average mark to be admitted – 11.1 to be precise. Though it does share first place with psychology, which has an identical minimum average mark.
READ MORE: Brains are a hit at Arts
But whereas psychology has existed as a department at AU since 1968, and is notorious for being at the top of the list of AU degree programmes requiring the highest minimum average mark, cognitive science is a new acquaintance on the list. The degree programme has only existed for one year. With last year's minimum average mark being 9.9, both lecturers and students have been surprised by the degree programme already managing to become so popular among new students.
"I laughed out loud when I saw how high the average mark was. It's great. Psychology is an institution at AU, so I think it is fun to see us grab first place already in our second year: Get out of our way!" says Ludvig Olsen with a smile.
A little self-contained universe
But what is it about the new degree programme that attracts so many new students? Julie Liep Sohn worked her way through all kinds of academic regulations before she decided to spend the next three years of her life on a bachelor of cognitive science. What she ended up falling for was the overarching opportunity to study the brain.
"The brain is our own little universe, and there is still a great deal we don't know about it. The degree programme deals with understanding the brain and the cognitive processes: How we remember, how we solve problems and how we absorb knowledge. It also deals with what happens to us in different situations," says Sohn.
"I've always thought it would be fun to be able to read people's facial expressions. To be able to see if they're lying from the small facial expressions they make. I wrote an exam paper on the subject and it was a lot of fun," she adds.
The degree programme asks questions – and finds answers
Kristian Tylén is associate professor at the Centre for Semiotics and one of the lecturers behind the creation of the new degree programme. He senses a great deal of interest in understanding the human brain among the students. Another aspect of the degree programme which he sees as a strength – and which could perhaps be one of the reasons for its appeal to new students – is that it is interdisciplinary and couples more abstract, humanistic subject areas with specific experiments, measurements and analyses that are typically part of the natural sciences.
"Subject areas such as what it is that shapes our experiences and preferences are in many cases traditional humanistic questions. But we really emphasise that the students also acquire some specific methodological skills so they can perform empirical studies. We don't just work with all the big fluffy questions and theories; we also fill their toolbox with things like statistics and programming, which we use to get closer to answers to some of these questions," explains Tylén.
Hands-on experience from the start
Ludvig Olsen didn't spend long considering which degree programme to take before deciding on cognitive science. He had dropped out of another degree programme that turned out not to be right for him, and after taking a year off, he needed to start on something new. On the actual application deadline day, he discovered cognitive science and jumped at the chance. He did not really know what he was getting into, but one of the aspects of the degree programme that he quickly came to appreciate is that the students get hands-on experience with the subject at a very early stage.
"We start doing experiments already during the first semester. If you make the effort and ask around, you can also take part in different projects that the professors run, giving you the chance to do something meaningful and be creative," says Olsen. He has been involved in a programming project together with a couple of students from psychology for much of his summer holiday that was not part of his courses.
Test subjects for one another
During the degree programme the students learn how to design and carry out their own studies of the mind, the brain and human behaviour. This takes place in laboratories in the basement at Aarhus University Hospital, where they are 'test subjects' for brain scans and behavioural experiments.
"Our professor does a pre-scan of us so we don't risk discovering a tumour or something in middle of the lecture," explains Olsen.
As a test subject he had the task of lying in the scanner and looking at positive and negative words – such as chocolate and terrorism – while his fellow students looked at whether his brain registered them differently.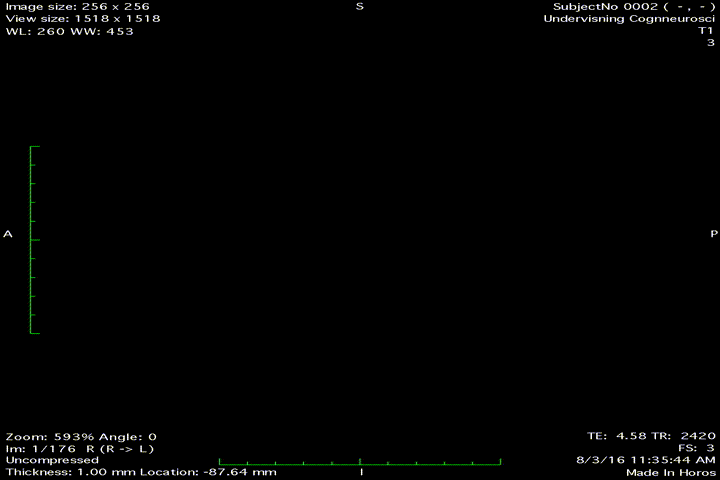 Scanning of Ludvig Olsen's brain.
High ambitions
Julie Liep Sohn and Ludvig Olsen can see from the level of teaching that the degree programme attracts brainy students – or, at least, students with high average marks. They both take a positive view of this.
"I can certainly tell that I'm at university now. Of course I had to work to get a top mark in secondary school, but I have to work harder for it now," says Julie Liep Sohn.
Ludvig Olsen adds:
"People are ambitious here. At the last exam most people got a 10, so there's something to live up to. But the competition is great."
Translated by Peter Lambourne.