Katrines Kælder always turns wild – even on a quiet day
The party atmosphere in Katrines Kælder is unavoidable. This Friday bar is known for its engineering-themed wall decorations, large selection of discounted drinks and lively atmosphere – even in the overlit, classroom-like room without music, it's difficult not to get carried away.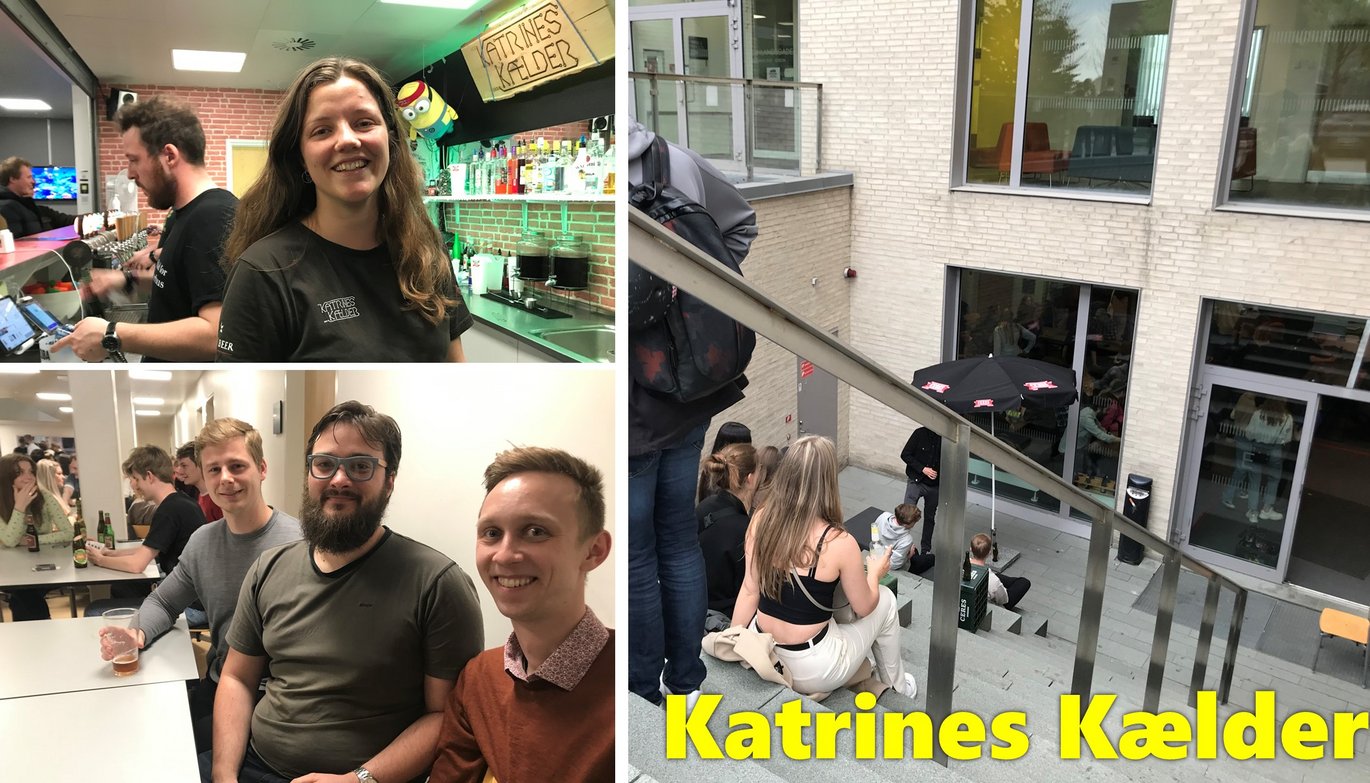 REVIEW: Katrines Kælder
Reviewed on 6 May 2022 (afternoon)
Katrines Kælder
Friday bar for engineering students
Where: Finlandsgade 22, 8200 Aarhus N (IT-Byen)
Facebook: https://www.facebook.com/KatrinesKaelder
Opening hours: 14:00/15:00-24:00
Vibe: Computer and engineering-themed decor on the walls, a large selection of beverages and a festive atmosphere. Signature drink 'Spejlæg' (fried egg), served in pitchers.
Prices:
Bottled beer (Ceres Top and Royal Classic): 10 kr., 8 for 70 kr.
Draft beer 20 kr., 8 for 120 kr.
Drinks (10 to choose from): 15 kr., 4 for 50 kr.
Specialty drinks (13 to choose from): 25/35 kr., 4 for 90/130 kr.
Shots: 10 kr., 10 for 80 kr.
Shooters: 10 for 75 kr.
---
PLUS
Plenty of room (perfect stop on a Friday bar crawl)
The bartenders are efficient and the line moves quickly
Activities such as beer pong, dice and board games
Festive atmosphere, room for dancing if the mood takes you
Engineering-themed decor
Large selection, discounts on multiple purchases and drinks in pitchers
MINUS
The lounge area isn't inviting
The atmosphere in the bar is intoxicating in itself – which also goes for the bar's signature drink 'Spejlæg': It's made of five kinds of booze (Safari, Cuba vodka, Cuba apricot, Jägermeister and Bacardi Limon) mixed with Faxe Kondi soda, and the dance floor in Katrines Kælder already begins to liven up from the afternoon.
The bar is divided into two sections. The bar itself is situated in an open room with very popular long tables, with pixelated images of the icons of computer culture on the walls – Tetris, Super Mario, R2D2, Darth Vader and Pokémon. This is where the music and the disco lights are. The other section is more like a long classroom. It's brightly lit. It's not inviting. But there's a good atmosphere, and the crowd is convivial. People sit around tables or play beer pong. The decibel levels are basically the same in both sections. The door between the two sections is heavy and shuts everything out - aside from the festive atmosphere. The great vibe from the bar is infectious – it follows you.
When we walk in to Katrine's Kælder, the chorus of Justin Bieber's 'Sorry' hits us. The next song sums up the vibe: 'It's going down, I'm yelling timber.'
Katrines Kælder doesn't seem like the kind of bar where you go for one beer after class. The notorious signature drink is served in a pitcher with two straws. Not for sharing. On top of this, there is a two-page selection of beer and shots with volume discounts on most drinks – though not all; alcohol-free drinks are full price. The motto seems to be: Why make do with one bottle of beer for 10 kr after class when you can get eight for 70 kr?
Later in the evening, the bar will be visited by the winners of the 2022 regatta, the engineering students' social association. But, other than that, the bar's calendar mainly offers 'normal' Friday bars, albeit with quizzes, bingo and fancy dress parties. And sometimes companies and organisations also stop by to promote themselves among the students.
What do the regulars say?
Michael Moseholt, Jonas Nielsen (both graduates) and Frederik Hesselholm (engineering student in his twelfth semester).
"There's often a lot going on in the bar. For example, someone might start a beer pong tournament or a limbo competition. There are also companies or organisations that come by to advertise, and they give out free beer and bags of crisps. Today, it seems to be a quiet day in the bar. It can get much wilder than this."
A good bar?
"Our teachers have sometimes come along to the Friday bar and tested things on us. One of our teachers once brought two exercise bikes. They were hooked up to two racing cars on a track and we had to compete against each other. That was kind of fun."
What does the bar say?
Pernille Højmark Hansen has been volunteering at the bar for two and a half years, and she has recently graduated.
"This bar can do it all. We try to embrace all the students as much as possible," she says, as she hugs one of her friends who is heading off. "We have a huge range of games that we lend out. Or people can play beer pong or chat, and there is usually also a dance floor later in the evening. There is something for everyone. But, if I had to categorise it, I would probably say it's a disco bar."
---
HOW WE WORK:
We send out two reviewers who start by hanging out in the bar for a while without making themselves known in order to get an impression of the atmosphere in the bar and the facilities.
As a Friday bar typically evolves from afternoon to evening, we make ourselves known and talk to guests and volunteers to get an impression of how the bar usually changes and what sort of mood the bar is hoping to achieve.
We don't grade on a scale. The Friday bars at AU are very different, so it can be difficult to compare and judge using the same criteria. Instead, we summarise our review in plus and minus sections.
Translated by Lenore Messick