Kalkulerbar is a convenient, makeshift Friday bar – but you won't stay all night
Kalkulerbar is not an intimately located Friday bar with loud voices and a dance floor, but rather a quiet bar in a corridor with large windows. The makeshift bar offers board games and cheap shots – and is a good place to start your evening.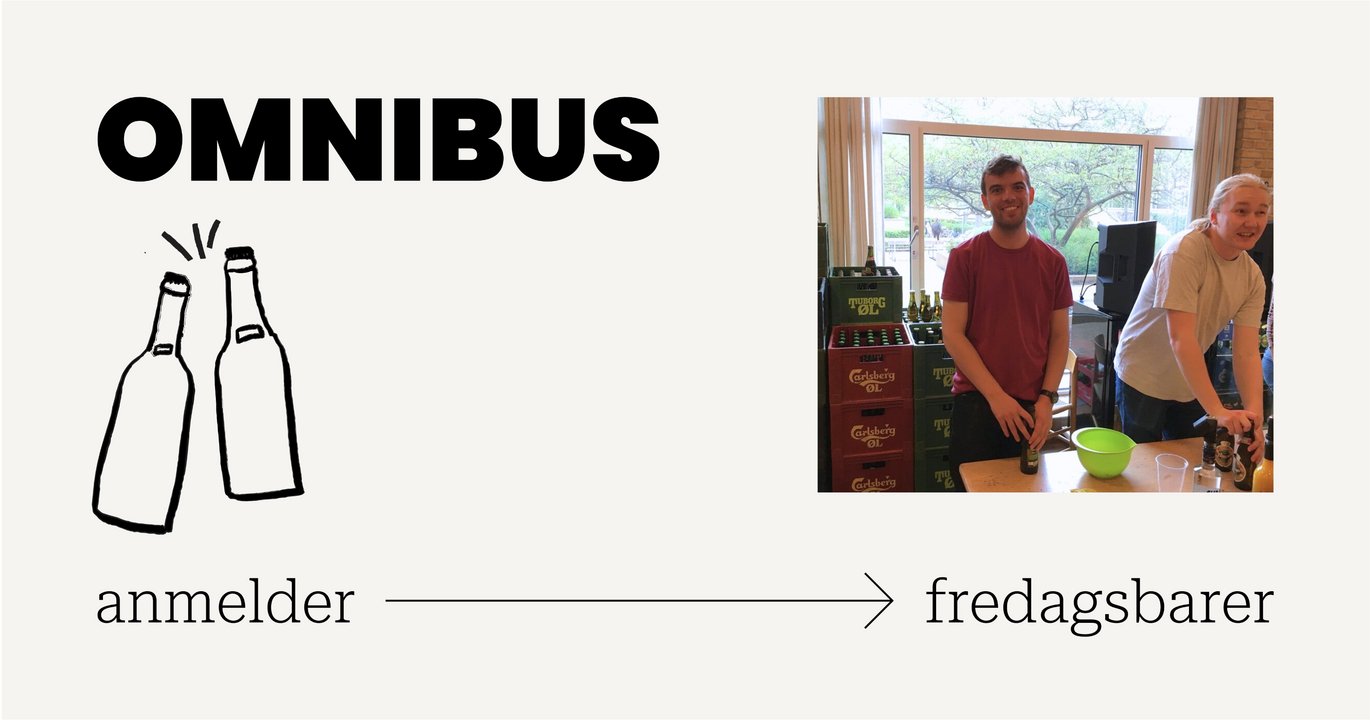 REVIEW: Kalkulerbar
Reviewed on 12 May 2022 (afternoon)
Kalkulerbar
Friday bar at the Department of Mathematics (data science, mathematics and mathematics-economics)
The bar is open from 15:00 to 22:00
Where:
Ny Munkegade 118, 8000 Aarhus C
Facebook:
https://www.facebook.com/Kalkulerbar/
Vibe:
Lots of games and cheap shots. The bar has a chilled-out, quiet atmosphere and no wild parties.
Prices:
Beer: DKK 10
Drinks: DKK 15
Shots: DKK 5
---
PLUS:
Cheap beer, drinks and shots
Free crisps
Never too crowded
MINUS:
Beer at room temperature
Lack of atmosphere
Separate groups at their own tables
Makeshift location in the middle of a corridor
From the outside, you may not even notice there's a social event going on in the Mathematics Department. In the foyer, two students sit working on their computers. But once you step inside the door, you can hear the faint murmurings of a party inside the narrow passageway. This is the home of Kalkulerbar.
As you approach the bar, you have the feeling that study group sessions have been interrupted by a voluntary bartender bringing along beer, spirits and speakers.
You won't be blown over by noise in the long, open corridor that houses Kalkulerbar, but the volume could do with going down a notch. Beer, drink and shots are cheap, crisps are free, and while the bar doesn't lend itself to a raucous or drunken party, it gives you the chance to sit at a table with friends and play games or enjoy a chat. Or you can just swing by and have a few shots with friends before hitting the next Friday bar.
Because, as the bar's makeshift and temporary style in lobby shows, it's not necessarily here you want to spend your whole Friday evening. It's more of a place to stop by. When we were there, there was also a huge party in the Mathematics Canteen, which certainly contributed to the atmosphere. Kalkulerbar is located between other Friday bars, and people are regularly strolling through the bar, but mostly on their way home from class or on their way to something completely different.
The bar itself consists of a table set up for the occasion flanked by 20 crates of lukewarm beer, two fridges, two speakers and a couple of milk crates with spirits and snacks. There are no big gestures here, but that seems to suit the guests who are planted in their own groups at the various tables. Most of these groups are engrossed in games, and the music volume makes it possible to hold a conversation.
What do the regulars say?
Jens Trolle is studying mathematics-economics.
"I think it's okay. There are lots of people I know. But I also know people on other degree programmes, so I don't usually sit here for ages. I often come along at 16:00, see people and then go again. Once people have had dinner, it usually livens up a bit, with fairly loud music but without a dance floor or anything like that," he says.
What does the bar say?
Asbjørn Holk Thomsen is studying statistics.
"It's usually pretty full from when we open at 15:00 to when we close at 22:00. It's a very quiet, chill bar. You can sit and play board games, and it's not like a wild party. But, on the other hand, there are cheap shots. We are not the final stop on a night out in town, but we are a good place to start."
"We would like to move over to MatLab, because they don't have so many people walking through. It could be great to have our own room," he says.
---
HOW WE WORK:
We send out two reviewers who start by hanging out in the bar for a while without making themselves known in order to get an impression of the atmosphere in the bar and facilities.
As a Friday Bar typically evolves from afternoon to evening, we make ourselves known and talk to guests and volunteers to get an impression of how the bar usually changes and what sort of mood the bar is hoping to achieve.
We don't grade on a scale. The Friday Bars at AU are very different, so it can be difficult to compare and judge using the same criteria. Instead, we summarise our review in plus and minus sections.
Translated by Sarah Jennings