Nano Bar is a manifestation of Minttu
Despite the sterile environment, a penchant for Minttu might be enough to kick start a party. But not every Friday. Nano Bar is an emotionally cold meeting place for the small programme, but, every other week, they warm up for action on the dancefloor.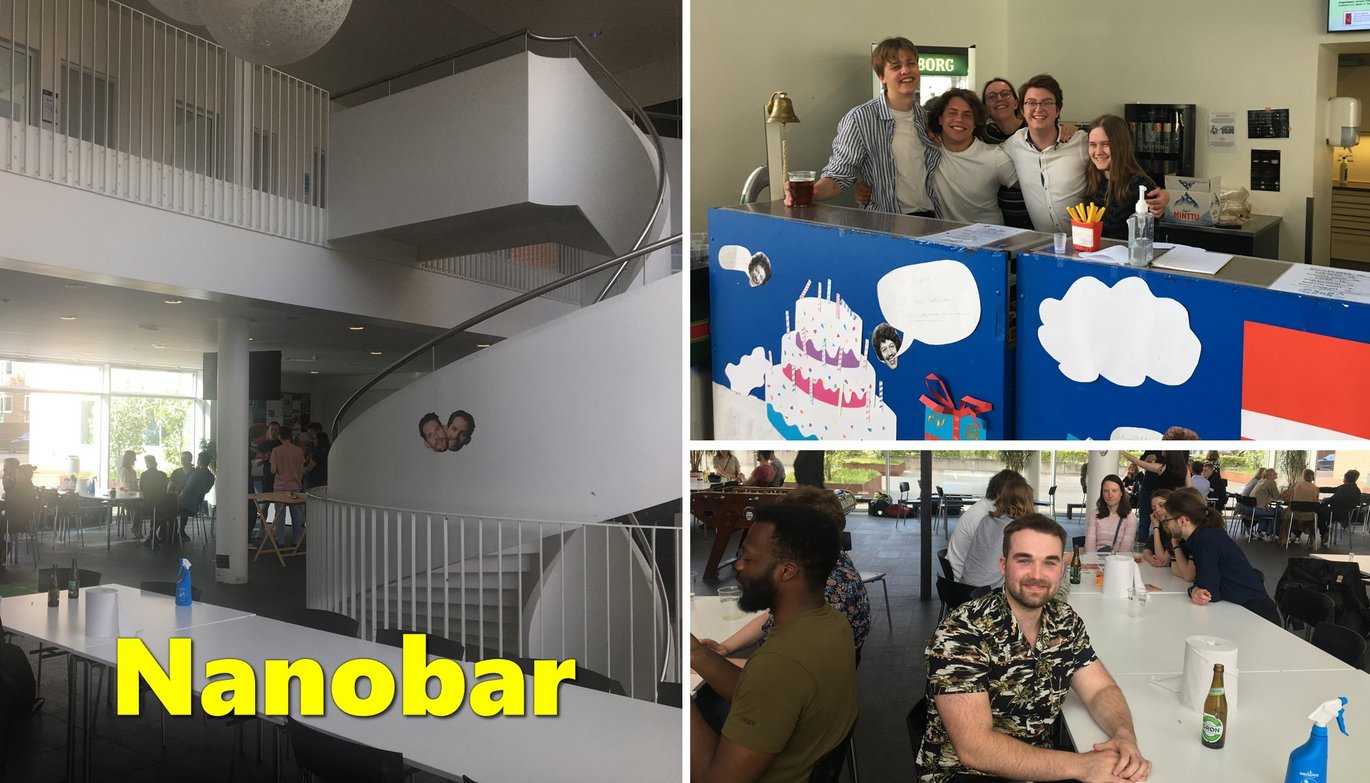 REVIEW: Nano Bar
Reviewed 12 May 2022 (late afternoon)
Nano Bar
Friday bar for iNANO and nanoscience students
Where: Gustav Wieds Vej 14
Facebook: https://www.facebook.com/Nanobaren/
Opening hours: Closes at 22:00 after a regular Friday bar and at 02:00 after a party
Signature drink: Minttu-shots
Prices:
Bottled beer DKK 10
Draught beer DKK 15
Minttu shots DKK 5
---
PLUS:
Minttu
Good prices
Lots of activities (bob, beer pong, table football and board games)
Large venue (an obvious stop for a bar crawl on selected Fridays after 21:00)
MINUS:
Large venue
The good atmosphere is down to the bar staff and the bar's few guests and NOT the surroundings
It's no surprise that the Nano Bar has Minttu shots as its signature drink. The bar resembles the 'legendary mint shot from Finland' – clinically clear and clean and about as cosy and warm as peppermint. The white walls, the large windows and the metal go well with a blue shirt, but they turn the few green plants into foreign objects. The Nano Bar venue is enormous. Considering there are only 16 new nanoscience students a year, the room fills the guests with the same refreshing airy feeling as when drinking peppermint shots.
Two of the long tables are undeterred by the surroundings. One of them is engaged in a game that – for the uninitiated – appears a mystery. And the other is knocking back shots after a game of beer pong: haps, haps, haps, now they must have snaps! Or Minttu?
Despite the sterile environment, the room holds potential. There are tables long enough for two groups to casually fall into conversation, two sofa corners, room for a dance floor and activities such as boardgames, bob, beer pong and table football.
The theme for today – according to Facebook – is freshers' bar, but, scattered around the room, masks of Tommy and Rasmus Seebach's face adorn the walls. The bartenders are wearing the same masks, and the hollowed out, empty eyes are sinister to say the least, but the bar's friendly service and unapologetic love for Minttu contrasts the lack of character, and that's just how it is at Nano Bar.
(When we were there, a PhD reception was taking place on the opposite side of the room. This review is based solely on the Friday bar's venue and the Friday bar's guests.)
What do the regulars say about the bar?
Sofus Brahe is a nanoscience student:
"The reason I like the Nano Bar is that there aren't too many people. It's not crammed. It can be difficult to play beer pong at other Friday bars. Here you just find a table and get on with it. It's cosy."
A good bar
"Last week there was a birthday party with a dance floor. If there's a party, people dance and really go for it – otherwise it's just fairly quiet and cosy. People play lots of games. There aren't many of us at Nano, so most of us know each other."
What does the bar say?
'Father of the bar' Mathias Feldborg Mortensen from Nanoscience:
"This is a very small and cosy Friday bar. Our speciality is Minttu shots every Friday. Usually, the bar is a pre-party venue, but we also have some proper parties of our own: birthday parties, committee parties and the grønfest. This helps to nurture our own student community. We eat and drink wine, and the chairperson gives a short speech – the doors open at 21:00. It's a great place to be if there's a party-party! There is always a dance floor, and people love to come along."
---
HOW WE WORK:
We send out two reviewers who start by hanging out in the bar for a while without making themselves known in order to get an impression of the atmosphere in the bar and facilities.
As a Friday Bar typically evolves from afternoon to evening, we make ourselves known and talk to guests and volunteers to get an impression of how the bar usually changes and what sort of mood the bar is hoping to achieve.
We don't grade on a scale. The Friday Bars at AU are very different, so it can be difficult to compare and judge using the same criteria. Instead, we summarise our review in plus and minus sections.
Translated by Sarah Jennings