Postcard from Collioure: 117 ways to eat anchovies and Michelin cuisine
Niels Wium Olesen is associate professor of history at the School of Culture and Society. At the end of June he, his wife and two of their three children spent a week on holiday in the university's apartment in the southern French town of Collioure close to the Spanish border.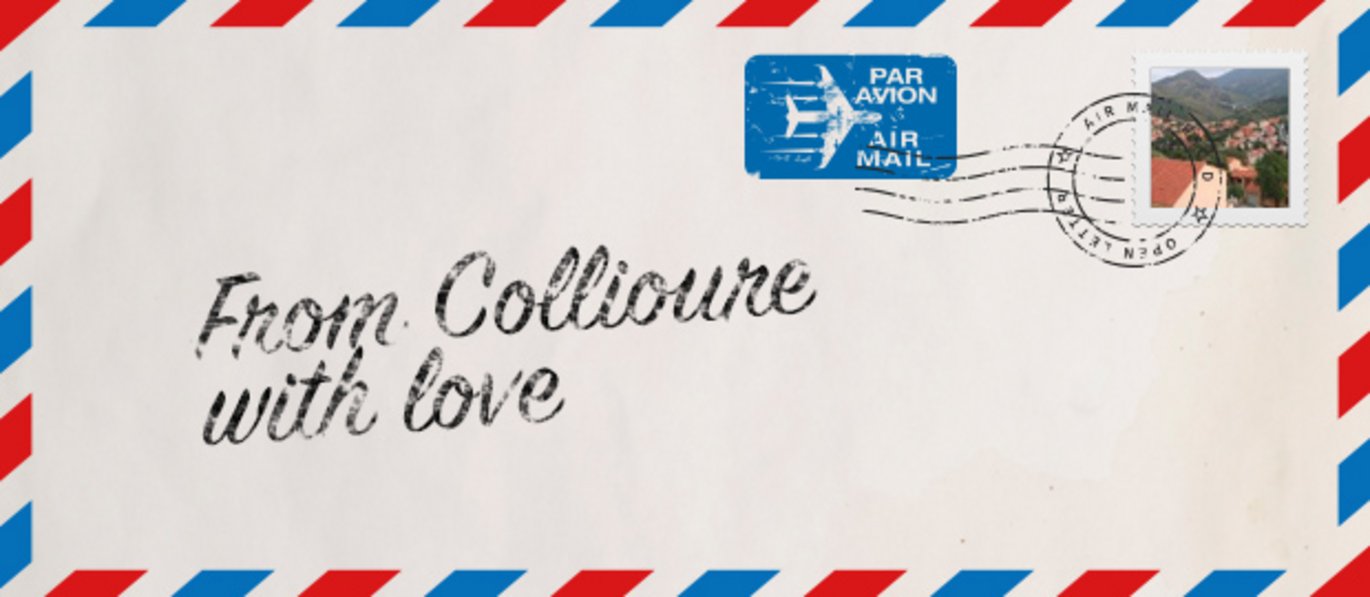 New miniseries: Postcard
Many great experiences await in the holiday homes and apartments that the Feriefonden af 1979 (the holiday allowance foundation of 1979, ed.) for employees at Aarhus University has at its disposal. In this series, Omnibus presents holiday postcards and recommendations from a few employees who have visited one of the holiday homes or apartments during this summer.
The Holiday Fund of 1979 for employees at Aarhus University has at its disposal houses and apartments in Denmark and Europe. They can be rented by all employees at Aarhus University and by retired employees.
Denmark:
Skagen, two holiday homes on Strandfogedvej and Højensvej (both for 6 people)
Søndervig, summer cottage (8 people)
Skovfogedhuset at Sandbjerg Estate (8 people)
Rude Strand, summer cottage (8 people)
Lild Strand, sommerhus (8 personer)
Copenhagen, three apartments in Husumgade and one on Sundholmvej (2, 4, 6 and 4 people, respectively)
Grønnestrand, summer cottage (8 people)
Femmøller, summer cottage (8 people)
Bovbjerg, two apartments (both 2-4 persons)
Bjerregård, holiday cottage (6 people)
Båring Vig, holiday cottage (6 people)
Europe:
France, Collioure, apartment (4 people)
Spain, Malaga, apartment (8 people)
Italy, Tuscany, holiday home (6-8 persons) and apartment (6 people)
Germany, Berlin, apartment (8 people)
Hungary, Budapest, two apartments (4-6 and 6 people)
Read more about the holiday allowance foundation and the individual homes and apartments
More inspiration for your trip
Most of the properties have guidebooks etc., in which previous guests have written tips and ideas. Aarhus University Press also publishes a series of Danish guidebooks called 'Vide Verden' that includes books on Budapest, Berlin, Barcelona (near Collioure) and Aarhus.
How did you get there?
"We took the train. Due to global warming, we wish to avoid flying in Europe when it's not necessary. And we certainly want to avoid flying with Ryanair, who are the airline that flies closest to Collioure. We also love travelling by train. On the way down we stopped in Paris, left our luggage at the railway station and went for a 12-hour walk around the city. The plan was to take a sleeper train from Paris but we got caught up in a strike. Luckily, we could sleep on the train in the station and got our tickets changed to a TGV train leaving in the morning, so all in all we arrived three hours later than originally planned. The journey home took 24 hours."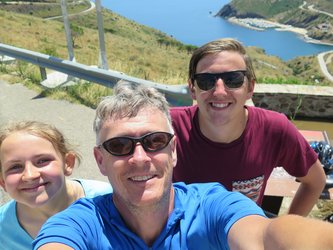 Niels Wium Olesen (in the middle) with two of his tree children - his daughter Johanne (left) and his son Hans Henrik (right). Photo: Private
What do you think of the apartment and the neighbourhood it's in?
"This apartment is great. It's not luxurious, but it functions well and suits a family of four. There's a great balcony with a view of the ocean, which is only 200 meters from the apartment."
READ MORE: Postcard from Berlin: "We fine-combed the city by bike"
What do you think of Collioure?
"Collioure is a very picturesque fishing village on the Mediterranean. Both Matisse and Picasso have painted there, understandably enough. The town lies just where the Pyrenees meet the Mediterranean and the mountains almost plunge down into the ocean. Very dramatic. The town is also surrounded by vineyards. Of course there are tourists, but when we were there, it was okay. The town is famous for its anchovies – you can find 117 ways to eat them. The area is part of Catalonia and the Spanish inspiration can be seen both linguistically and in the architecture, if you are aware of it."
Hans Henrik and Johanne on their way to Le Tour Madeloc, a fortification situated in the Pyrenees 700 meters above sea level. The town in the background is Banyuels-sur-Mer, not far from to the French-Spanish border. Photo: Private
What did you do?
"Neither my wife or I have a driving license, so we rented bikes. We cycled around the countryside and along the coast, which is characterised by jagged rock overhangs and small fishing villages. We also took longer trips on the bikes, among other things to Spain. Collioure lies around 15-20 kilometres from the Spanish border, and the trip takes you through a mountain pass. We also swam in the old harbour, which has really nice water that quickly becomes deep."
What was the weather like?
"The sea breeze was very cool. I think the weather was a little cooler than the average, with 25 degrees most days and 30 degrees when it was warmest."
What would you would recommend to others who stay at the apartment?
"The castle is definitely worth a visit, along with the small local museum of art. It's not spectacular. There's one Matisse drawing, but it's still fun to see and provides an insight into the local art history. But otherwise just make sure you get out into the countryside on a bike or in a car. The area is crazily fortified with fortifications from as far back as the 1400s and up until the Napoleonic period, and several of them are now museums with good views."
Collioure seen from Fort Saint Elme, 170 meters above the town. Photo: Private
Is there a free experience you can recommend?
"In addition to the beach and bike rides in the countryside, I'd recommend visiting the town church as it's really impressive, especially on the outside, and is located close to the ocean and harbour. The tower is an old lighthouse that has been converted into a bell tower."
Collioures famous landmark, the belfry, was originally a lighthouse. The artist Henri Matisse painted it in various ways. Photo: Private
Is there a restaurant you can recommend?
"The local food and wine is excellent and there are many good restaurants in town, even a couple of Michelin restaurants. We visited the one called Le Neptune. A meal here is of course more expensive than average prices, but it is not crazily expensive (menu 39 - 129 Euro, ed.), and it's cheaper than in Denmark, while the food was excellent."
Have you visited any other of the university's houses and apartments that you would recommend?
"I've visited two of the apartments in Copenhagen. The one on Amager in particularly is nice. The other one has a good location in Nørrebro. I've visited them in connection with research projects, where I've had to do archive work in Copenhagen, and they're both cheaper and more comfortable than staying at a hotel."
Translated by Peter Lambourne