Campus guide: A Thermos filled with coffee, cheap drinks in the Børs Bar and swotting for exams with pensioners
Where can you find good coffee and cheap beer, and how do you get involved in student life at AU? A pair of seasoned AU students give some tips and tricks to students who are about to take their first tentative steps at the campus in Aarhus.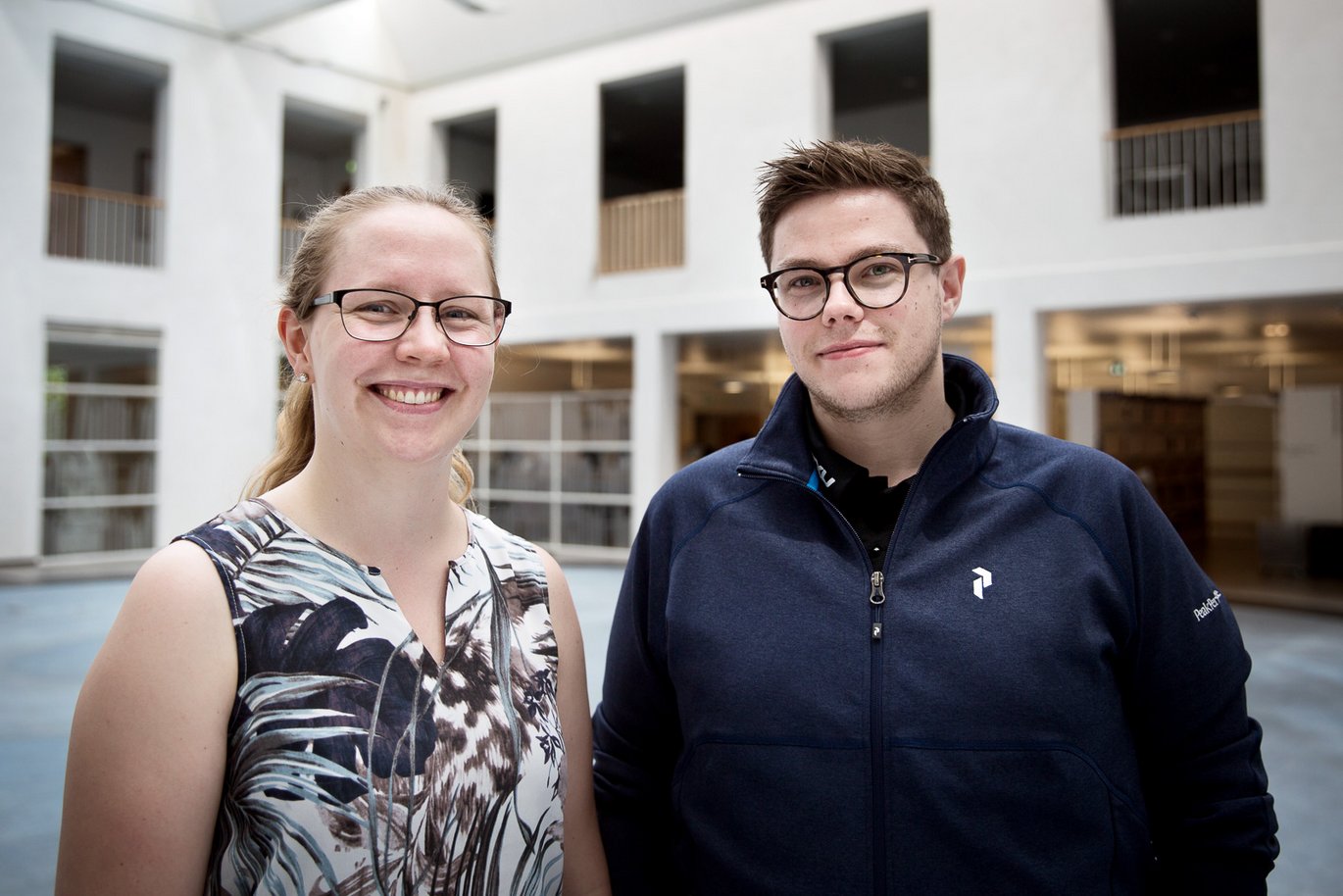 Martin Larsen, studying business economics and on his tenth semester.
Cecilie Tarpø, studying medicine on her twelfth semester.
Finding some cheap lunch and coffee in the vicinity:
"There's always coffee in the State and University Library, but I don't know how cheap it is. It costs nine kroner a cup. But otherwise the Mathematical Cafeteria is generally cheap, also for food."
Where to find out about events on campus?
"On AU's Facebook page and their Instagram. There's a lot of stuff, both fun and serious. They're also good at letting students borrow their Instragram, which provides a good insight into what other students are doing. They often do it before big events and during exam periods."
READ MORE: Campus guide: The Student House is the centre of everything, cheap lunch at Karma and volume discounts on coffee
Here you can get cheap drinks – both on and off campus:
"We usually drink craft beer – but it's not cheap!" laugh the two Master's degree students. "The Student Bar has one of Denmark's largest selection of craft beers, and also locked cabinets with beer that costs hundreds of kroner. It's impossible to get all the way through the menu [of beer, ed.] before giving up. We've tried. The cheapest we know of off campus is Kurts Mor – but we wouldn't recommend going there. For Friday bars, we'd recommend the one at medicine as there's always lots of people and plenty happening. If you want a fun experience, you should visit Børs Bar at BSS. They sell beer according to supply and demand. If no one has bought a beer for a while, the price suddenly drops to five kroner a beer. Suddenly there's a hundred people in the queue, and prices jump to forty kroner a beer!"
Where are the best places for in-depth study and swotting for exams?
"The State and University Library's old reading room, it's got a really cosy vibe and the people in it are good at keeping quiet. It's not only used by students. There are also pensioners reading tabloids, and it's really a bit cosy. During the exams you need to get there at eight in the morning to get a seat. Now they also have massage chairs and table tennis in the new lounge downstairs if you need a break."
READ MORE: Campus guide: Sleazy pubs, student-run kitchens and instant coffee
Don't miss out on:
"The Regatta! That's the one thing you absolutely can't miss."
Your life as a student is not complete without:
"Bike, bicycle helmet and Thermos. With coffee in it, of course."
When student life gets tough, you can find help here:
"In your study group and from other students. And don't underestimate the help you can get from the Student Counsellors' Office."
One final piece of good advice:
"Enjoy it! And enjoy the long summer holidays."