Cure your wanderlust without breaking the bank
Guide to seven unique (and affordable) travel destinations handpicked for students based in Aarhus where cheap flights are hard to find.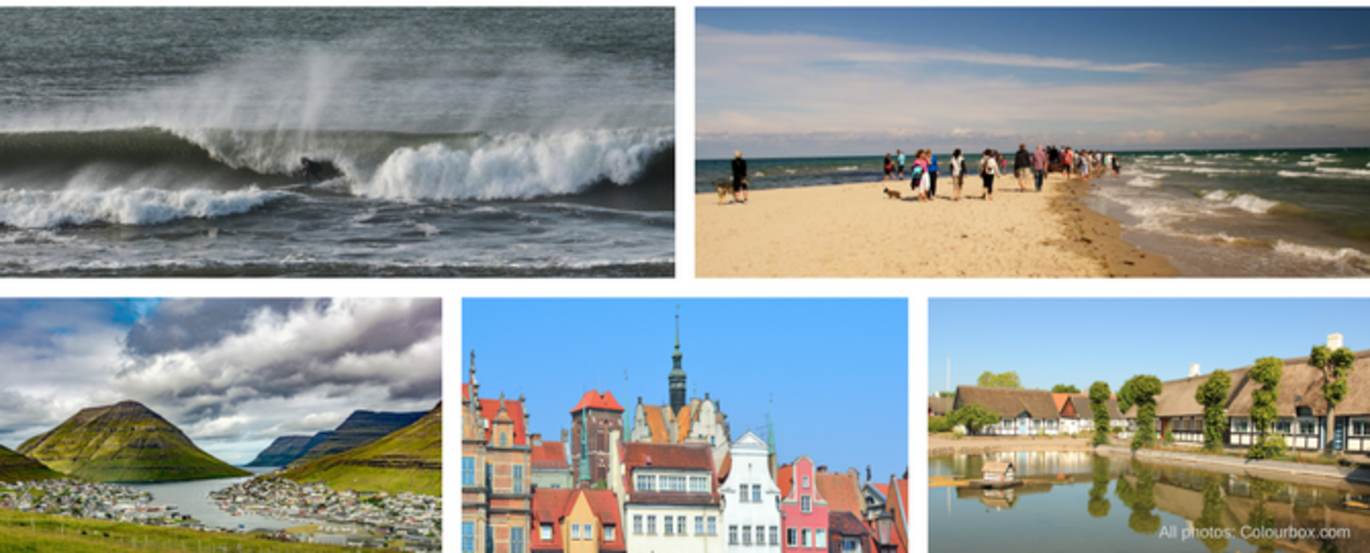 While Aarhus has several advantages over its big sibling city Copenhagen (cosier size, cheaper prices, a location somewhere under the rainbow, to name a few), there's one major disadvantage: Flights are consistently more expensive out of Aarhus.
For an international student looking to explore Europe or the Danish student with a case of wanderlust, this can be a bit frustrating.
However, being located in Aarhus and Scandinavia in general offers opportunities to travel to some destinations that are off-the-beaten track and would be expensive to get to otherwise.
Here's a guide to seven unique (and affordable) travel destinations that you can access, even from Aarhus.
---
1. For the outdoor adventurer: Klitmøller – Cold Hawaii
Photo: Sara Sandahl/Colourbox.com
One of Europe's up-and-coming surf spots is located in Klitmøller, a small fishing village in Northwest Denmark. Nicknamed "Cold Hawaii" due to the unique wind and reef conditions that create waves you'd expect to see on tropical islands, Klitmøller's waves are filled with surfers, paddle boarders, kite surfers and wind surfers.
You can rent equipment or take lessons at one of the town's two surf schools—Westwind or Cold Hawaii Surf Camp.
Not a surfer? Take a stroll along the sand dunes that line the beach or take a trip to nearby Thy National Park for seaside hikes.
How to get there
Public Transit: DSB train to Thisted St., then bus 322 to Tuerbak (Ørhagevej/Klitmøller).
Driving: 2 hours and 9 minutes
Where to stay
---
2. For the sea-life lover: Skagen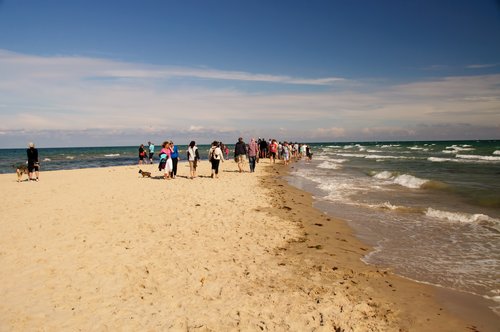 Photo: Gry Thunes/Colourbox.com
You can see the spot where the North Sea and Baltic Sea meet in the waters near this village on the northernmost tip of Denmark.
The coastline is also home to the striking Råbjerg Mile migrating dunes, a sand-covered "buried church", as well as a colony of seals that often take to the beach to sunbathe.
Skagen was also an artists' colony at the turn of the century, playing muse to a number of impressionist Danish painters. You can see their works on display at the Skagens Museum.
How to get there
Public Transit: DSB Train to Skagen St.
Driving: 2 hours and 20 minutes
Where to stay
---
3. For the island hopper: Samsø or Anholt
Samsø. Photo: Colourbox.com
There are over 400 islands in Denmark, though just 70 of them are inhabited, and a few of the most intriguing ones are located just off the coast of Jutland.
Samsø island, located south of Aarhus, is best known for sustainability – the island is CO2 neutral and aims to be fossil free by 2030 – but also features sandy beaches, a golf course, and several museums devoted to Danish history.
Anholt. Photo: Knus Erik Christensen/Colourbox.com
If you're looking for something even quieter, cars are discouraged on nature-friendly Anholt island (located to the north of Aarhus), which is home to a small population of self-sufficient residents, a protected seal reserve, as well as Denmark's only desert.
Looking for more island holiday options around Denmark? Check out this list.
How to get there: Samsø
Public Transit: 103 bus to Hou, where you pick up a ferry in the Hou harbour. More information
How to get there: Anholt
Public transit: Bus 122 to Grenaa, then ferry to Anholt a three-hour ferry ride.
Where to stay: Samsø
Where to stay: Anholt
---
4. For the architecture nerd: Aalborg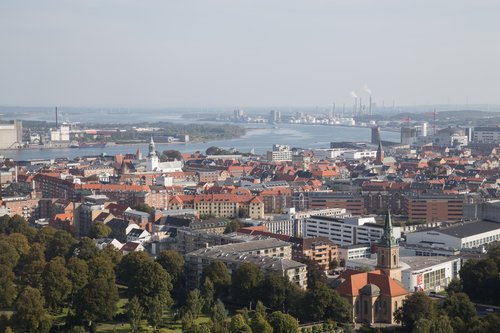 Photo: Olli/Colourbox.com
You can explore art and architecture through the ages at this northern Danish city. Start in the Viking era with a visit to the Lindholm Hoeje Museum, the site of a Viking burial ground. Then stop by the striking Utzon Center to explore the works of Jørn Utzon, the Danish architect behind the Sydney Opera House who grew up in Aalborg. Finally, stop by the Kunsten Museum of Modern Art to see exhibits from renowned artists from around the world in a building that's an architectural gem in itself.
Between seeing the design sites, be sure to stroll through the charming centrum neighbourhood, stop by funky cultural centre Nordkraft, and go out along the raucous Jomfru Ane Gade, said to be the longest strip of bars and restaurants in Denmark.
How to get there
Public Transit: DSB train to Aalborg St.
Driving: 1 hour and 24 minutes
Where to stay
---
5. For the history buff: Ribe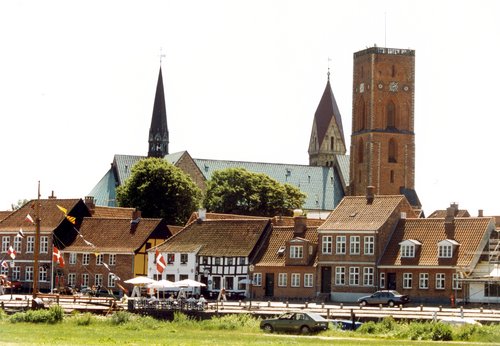 Photo: Colourbox.com
Ribe is the oldest town in Denmark, founded in the year 700. You can experience this history through the town's Viking Center, a live action museum that showcases life between 700 and 1,000 AD, as well as the Museet Ribes Vikinger, which provides additional history lessons through dioramas and artefacts.
Ribe is also the home to the Wadden Sea, the world's largest unbroken intertidal sand and mud flats. It's a national park in Denmark, as well as a UNESCO World Heritage Site, and you can learn about the area's unique biodiversity via the architecturally striking Vadehavscentret.
How to get there
Public transit: While there is no direct train to Ribe, there are a variety of train and bus options depending on the day and time you leave. It is best to search on Google Maps depending on when you want to go.
Driving: 1 hour and 50 minutes
Where to stay
---
6. For the Euro-tripper: Gdansk, Poland
Photo: Colourbox.com
If you're really looking to get out of Denmark, flights to Gdansk, Poland, can be so cheap on budget airline Ryanair that your bus ticket to the airport may actually cost more than your round-trip flight. Gdansk is a charming under-the-radar European destination located on the Baltic Sea. Be sure to explore the Długi Targ (Long Market) a historic market area with colourful architecture.
History buffs should be sure to explore the European Solidarity Centre, which chronicles the anti-communism movement in Eastern Europe; the Amber Museum, which explores an important resource from the Baltic states; and the Museum of the Second World War, which traces the history of WWII as well as the city's unique place in the conflict – Germany's attack on the Polish military base in a peninsula off Gdansk marked the beginning of the war. Plus, Gdansk is just four hours from Warsaw if you want to explore the country further.
How to get there
Direct flights from Aarhus Airport to Gdansk
Where to stay
---
7. For the off-the-beaten track traveller: The Faroe Islands
Photo: Skawbo/Colourbox.com
If you're looking to hit up a deep-cut travel destination while living in Scandinavia, consider a trip to the Faroe Islands.
This remote archipelago of 18 islands is a self-governing country, though officially under the Kingdom of Denmark. It is located between Norway and Iceland and features dramatic fjords, turf-covered homes and hikes to breath-taking seaside vistas. Be sure to bring a camera.
The remote islands are also home to several music festivals, including the international G! Festival in the summer and the wintertime HOYMA series where visitors hop between concerts in locals' living rooms.
The parliament, Tinganes in the capital Tórshavn is thought to be one of the oldest parliamentary meeting places in the world. The parliament met here for the first time in 825.
How to get there
Atlantic Airways flies several times per week out of Billund, Aarhus and Copenhagen. Search between these three departure airports for the best price for your trip.
Where to stay
Sources: Visit Denmark, TripAdvisor, Lonely Planet, visitfaroeislands.com