Show me your office - Carsten Bagge Laustsen
Who would guess that the hyped Danish concept of hygge would be elegantly expressed in the office of an associate professor who spends most of his waking hours studying terror? And on understanding the background for the numerous forms of violence that people inflict on others for political, ethnic or religious reasons.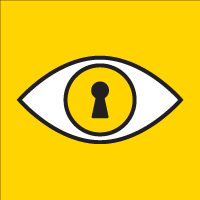 Nonetheless, this becomes clear as soon as you visit the office of associate professor of political sociology, Carsten Bagge Laustsen, from the Department of Political Science.
In the media, he is known as a researcher and expert on terrorism. But Laustsen is also a passionate collector of ceramics – and graphics, paintings and classical Danish furniture. And...
Passionate is the key word when it comes to Laustsen and collecting beautiful things, whether in the form of glazed vases, or stringent graphic lines or solid craftsmanship.
Kähler is well represented in the office, such as these uranium glaze vases by Niels Kähler. As a true collector, Laustsen has a little story about almost all of the items he has found. As well as a reason for having these particular items in his office. This particular story has an explanation of how a planned exhibition at Risø of ceramics made of glazed uranium caused the Geiger counters to go crazy (Risø is the site of Denmark's three (now decommissioned) research nuclear reactors, ed.) which led to the exhibition having to be cancelled.
It is no coincidence that Laustsen has precisely these vases in his office. Rather, it is because the golden glazing matches the rest of the interior, which also includes a sofa that he managed to bag when a professor retired. But more about that later.
The six classic Børge Mogensen chairs were bought at an auction, while the Shaker table is one of many found around the university.
Laustsen has deliberately furnished his office so it most of all resembles a living room. He has done so for several reasons. For the first, he hates what he describes as "office offices"; secondly, he spends eight hours here every day; and thirdly, he has noticed that students who might be nervous about visiting him for supervision quickly relax in the cosy surroundings.
Of the artist Knud Kyhn's many animals, Laustsen is particularly enthusiastic about this glazed panther.
We have come to the item which seems to be the starting point for Laustsen's office furnishing. The sofa by Hans J. Wegner upholstered in wool with a warm golden colour. Laustsen inherited it when a professor retired. He tells how the professor had his tea served each afternoon while seated on the sofa. It is sixty years old, but is just as smart as when it was new, emphasises Laustsen. As the associate professor asks rhetorically; What modern sofa could you use after sixty years of daily use.
The painting over the sofa is by the artist Rasmus Nellemann. The scene is Faaborg lime plant and is a preliminary study for a large graphic print. Nellemann was trained as both a painter and graphic artist. Laustsen estimates that he has around two hundred of his graphic works in addition to this painting, which is the item in the office that he would save if there was a fire and he had to vacate the premises in a hurry.
The aesthete in the foreground with an etching by Rasmus Nellemann in the background.
Shelves of books from floor to ceiling dominate two of the walls in the office. There are many different titles, but the majority are classics of sociology, philosophy and political theory. According to Laustsen, it is the best library after the department's own was closed down. Several of the works, which the methodical Laustsen has placed in alphabetical order, were found at flea markets and in antiquarian bookshops. Sometimes gaps appear in the rows because the students are not always good at returning what they have borrowed.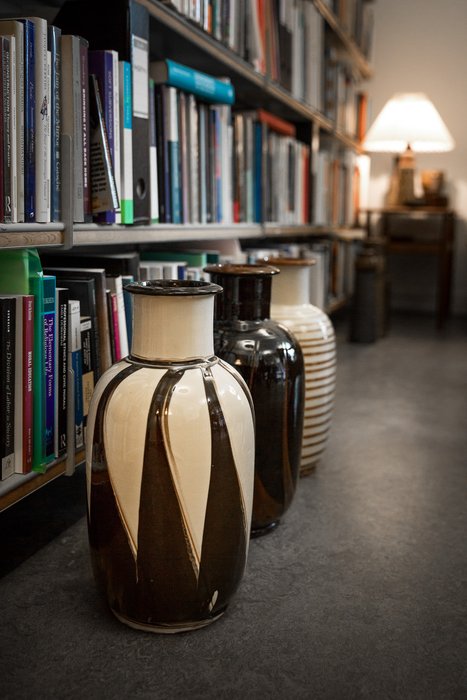 Three floor vases from Kähler stand side by side on the floor. They were produced in the period from 1935-1945, when, because of the general shortage of materials, it was difficult to obtain glazing. The three are therefore decorated with a glazing that normally lies below the actual glazing. The horn glazing, as it is called, is then painted with large brush strokes. Laustsen finds these vases more beautiful than many other vases from Kähler because they are so stringent. But also because of the soft brush strokes, leading him to compare their rhythm to vibrating jazz.
The view from his office is not to be scorned either. Neither is the fact that his office is the largest at the department.
Though souvenirs are not his style, he has still managed to find a little space for them on the window sill. Mickey Mouse comes from a conference which Laustsen helped to organise where he received it as a gift instead of the mandatory wine and chocolate.
Obama is a memento of a one-year stay in Harlem. Laustsen was staying there when Obama was elected president, and it was a very special experience to find himself in precisely that urban district after the election of the first black man as the next president of the USA. And Pikachu? His yellow colour fitted in well.
The two large objects standing in the staff lounge at the Department of Political Science are also known as "Laustsen's vases". Because Laustsen not only furnishes his own office. He is also responsible for buying items for the corridors, common rooms and auditoriums. Many of his colleagues also have pieces of art in their offices – but they have not bought them, instead borrowing from Laustsen's large collection. In fact, he also dreams of finding the time to write a book about ceramics.
Translated by Peter Lambourne